Since getting my 9.7" iPad Pro my MacBook feels neglected. The iPad Pro is so powerful, and iOS apps have matured so completely, that there are few things I CAN'T do on my iPad. It's for that reason my MacBook HATES the new ZAGG Slim Book Pro Wireless Keyboard and Detachable Case with Stand for iPad Pro 9.7".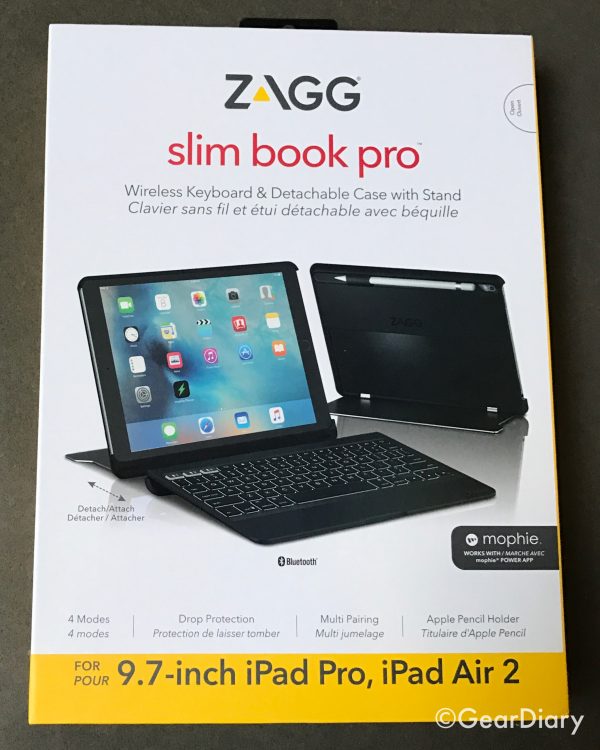 I've used a good number of keyboard cases for the iPad and have been impressed by many of them. Some of the best have come from ZAGG but none have been as flexible, as well-designed and as useful as the ZAGG Slim Book Pro Wireless Keyboard and Detachable Case with Stand for the 9.7" iPad Pro. As ZAGG puts it:
Unleash your productivity with the world's most versatile keyboard. Its innovative design features four different modes that are perfect for any situation and multi-device pairing and toggling for instant compatibility. The Slim Book Pro is ready to go wherever you do without taking up a lot of space.

Everyday Efficiency — Anywhere You Need It: When it comes to productivity, efficiency reigns, and those who succeed know how to make the most out of what they have. So whether you're up before dawn making the most of your morning or capitalizing on your commute time, you want design that won't hold you back and performance that moves you forward. With the Slim Book Pro, you have both.

Thoughtful Design: The best design is the kind that thinks of what you need before you do. Thoughtfully designed at every turn, the Slim Book Pro is full of features that set it apart and help you get the most out of your iPad.
At $149.99 this is definitely not the least expensive keyboard case you can find but it certainly is the best… by far.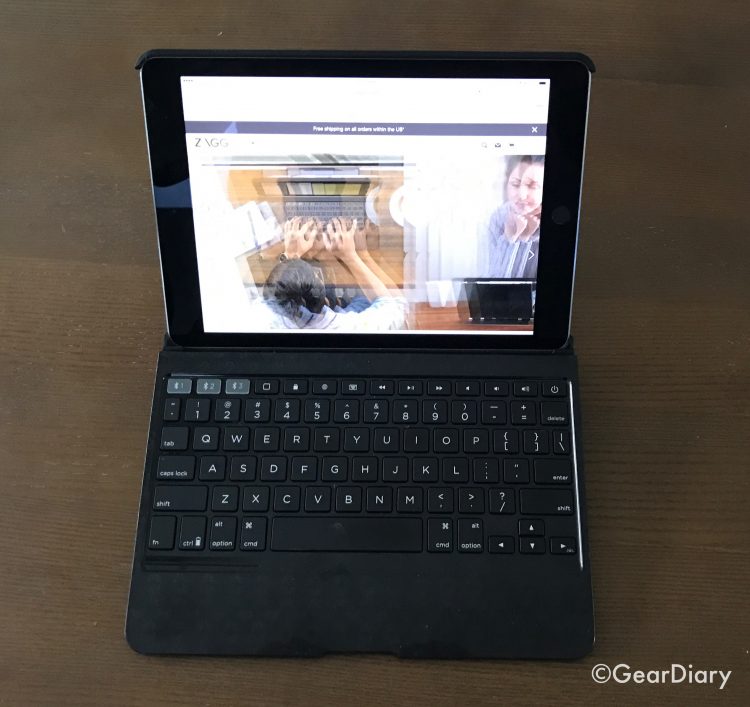 This case is similar to the ZAGG Slim Book I loved with my last iPad but improves on that in numerous ways. One thing that does not change, however, is the fact that there is a hard, protective shell that wraps the iPad in protection that, when attached to the keyboard, creates a laptop-like experience but can also be removed so you can use the iPad as a tablet while still having it protected.
It is a fantastic design since it means you don't need to choose between the weight and bulk of the iPad-keyboard case combo or iPad protection but can have both and seamlessly move between them.
Thin on Design; Not on Features: Thin and lightweight, the Slim Book Pro packs a powerful punch; all of the performance and protection you need to get the most out of your iPad Pro, without the bulk.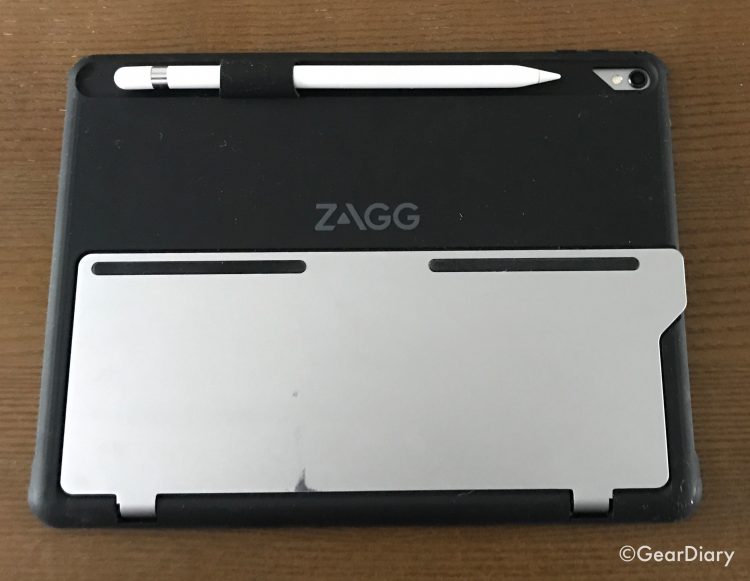 What is new with this design is the inclusion of a loop that holds the Apple Pencil in place when it is not in use. It isn't the most graceful design but it more than gets the job done. Since the Apple Pencil is a key reason for opting for the iPad Pro it makes sense that they would build in a way to hold it. And they did.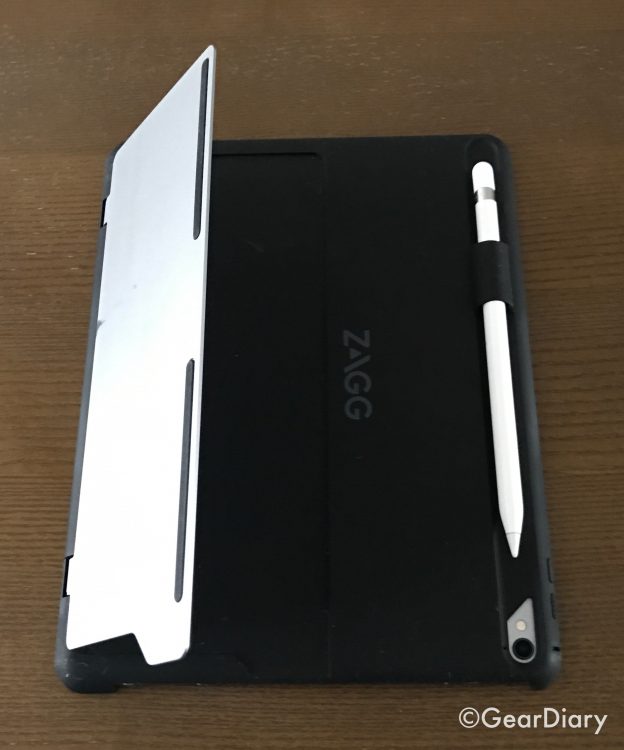 Also new with this design is a built-in stand for the iPad.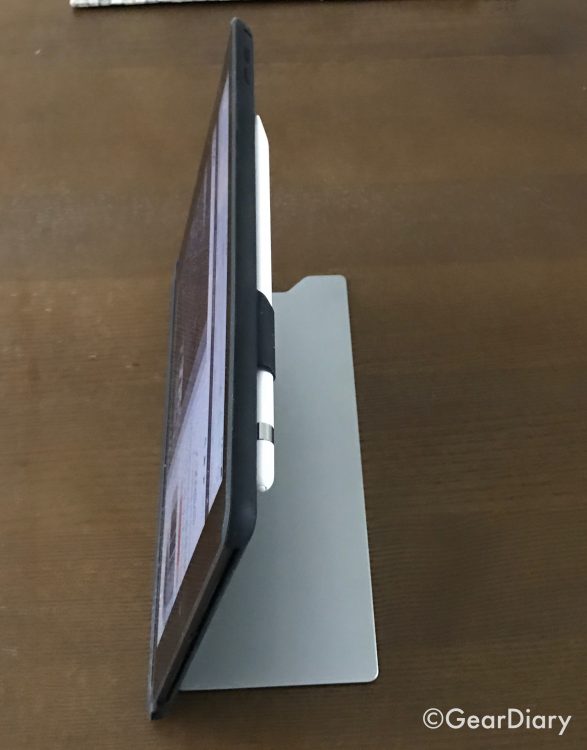 This means the iPad can be set at an angle- pretty much any angle thanks to the thoughtful design- and stand on its own. This differs from previous models in that the only way to have the iPad stand at a viewable angle on its own was to have it attached to the keyboard.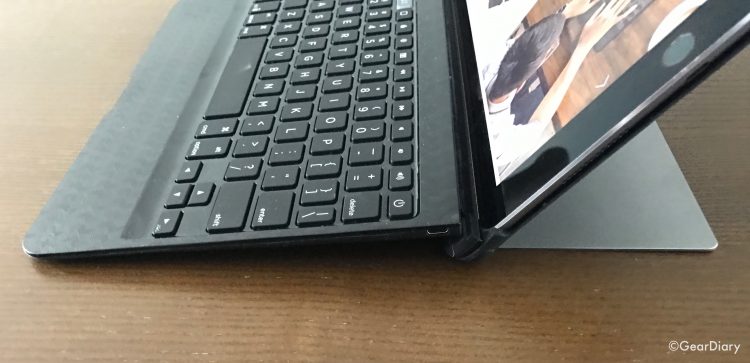 The keyboard connects to the protective shell magnetically.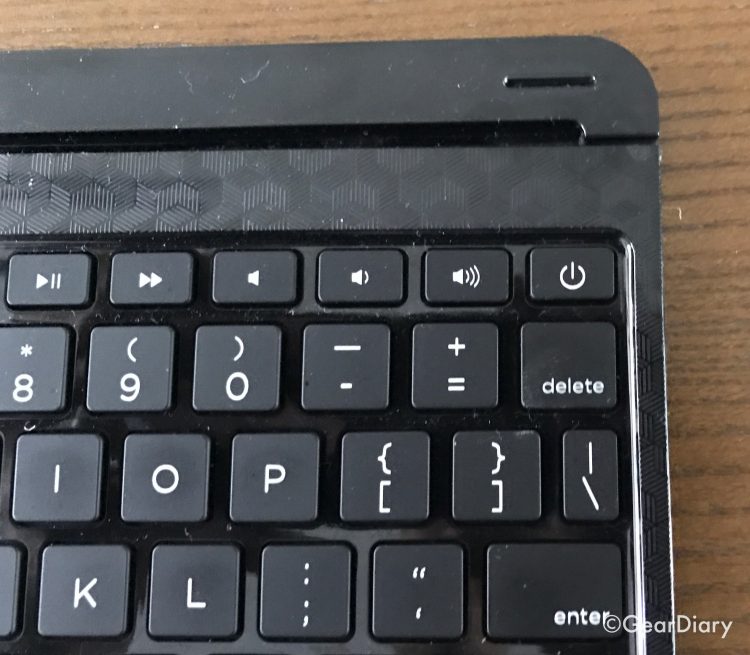 This keeps the keyboard in place protecting the iPad's screen when it is not in use. With a single motion the iPad can be lifted up and placed at a perfect angle for tying.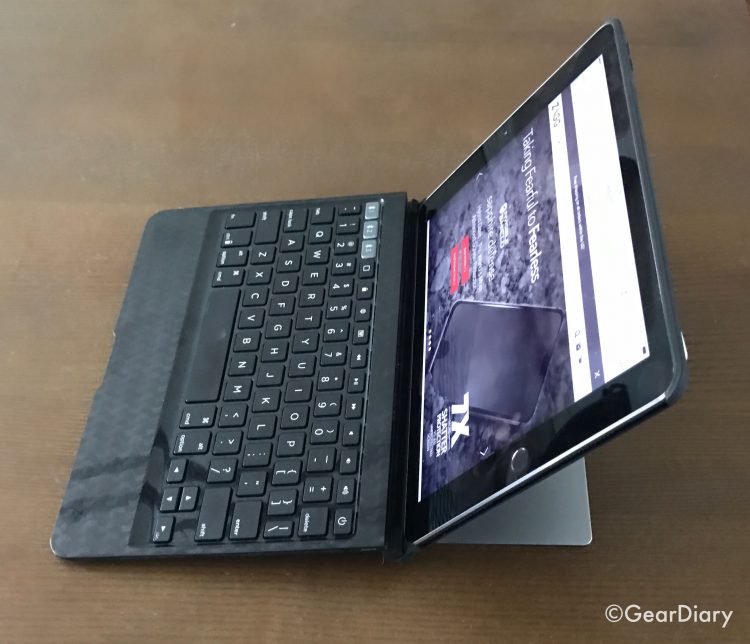 This gives you the feel of using a small, touchscreen laptop.
And because of the innovative design of the keyboard, when you do use it in this mode the back of the keyboard is a bit raised. This presents a typing angle that is more comfortable than ever.
That, however, is just the beginning.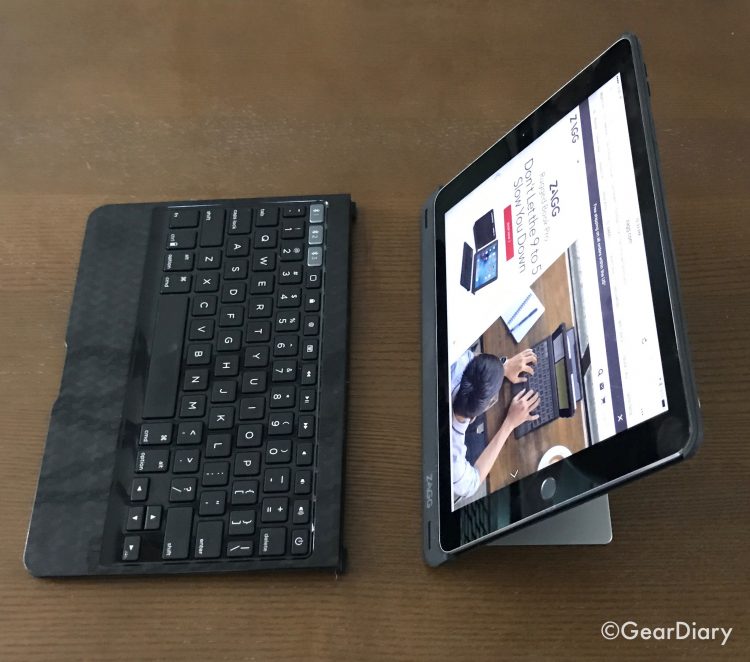 With a soft tug the keyboard and iPad can be separated. The portion of the keyboard that magnetically connected to the iPad can be flipped under the rest of the keyboard.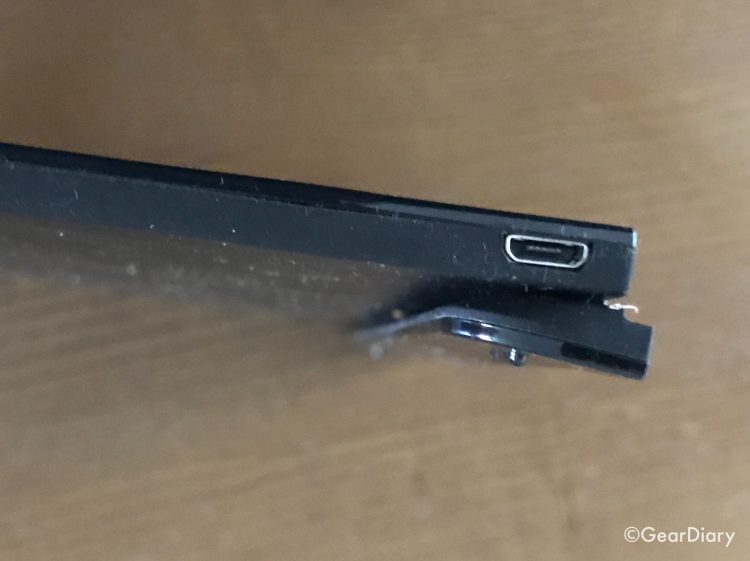 This, in turn, raises the keyboard a bit so that you get the benefit of the raised angle even when the iPad is not attached.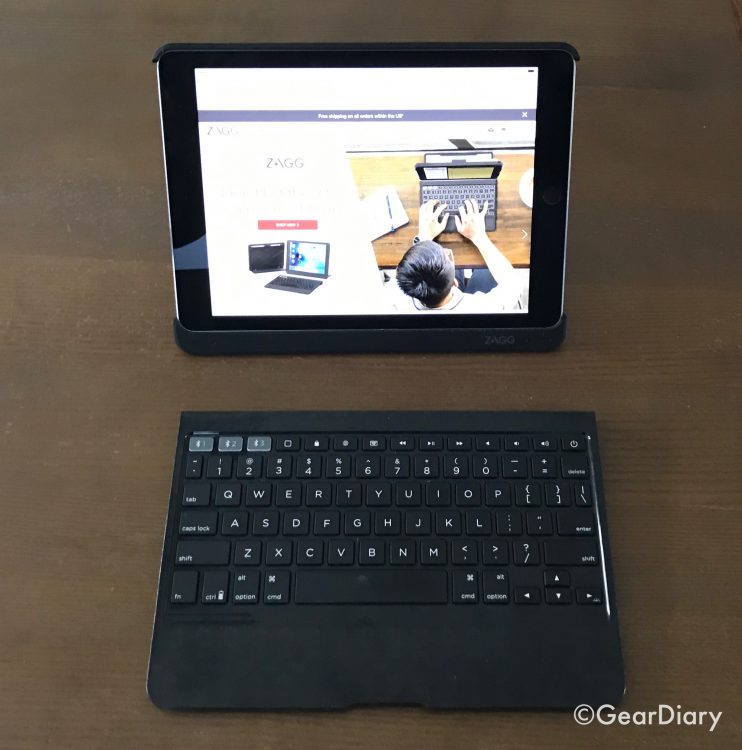 From there you can pull out the kickstand built into the iPad case and set the iPad down as a variety of angles. It also means you can position the iPad as close or as far, as you want from the keyboard. This adds more flexibility.
The ability to have the iPad AND the keyboard standing independently means you get four distinct modes of use. This, in turn, adds to the flexibility this awesome keyboard case offers.
A Design as Versatile as Your Day: Four versatile modes are ready for whatever your day brings you. From Video Mode and Case Mode to Attached Keyboard Mode and Detached Keyboard Mode, the Slim Book Pro is ready for anything.
In "video mode" the built-in kickstand holds your iPad at a comfortable viewing angle so you and others, can easily watch videos.
In "case mode" the iPad's screen is protected by the keyboard and the back of the iPad is protected by the rigid shell.
In "attached keyboard" mode you get something akin to a touchscreen laptop. "Keyboard mode makes typing fast and natural by offering the largest typing area and backlit, laptop-style keys that respond just like a traditional keyboard." This is the mode anyone who has used an iPad with a keyboard case will be most familiar with.
Finally, in "detached keyboard mode" you can set the iPad at any distance you want from the keyboard and use the two together thanks to the wireless Bluetooth connection between the iPad and the keyboard.
But wait… there's more.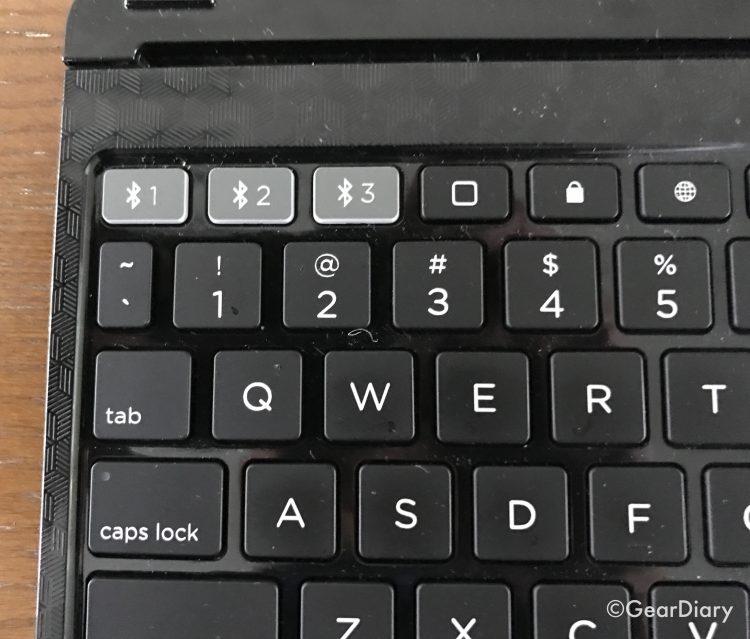 There's another feature of this keyboard that deserves attention. While this keyboard case is specifically designed for the 9.7" iPad Pro, ZAGG didn't miss the opportunity to make this detachable keyboard ideal for use with other devices such as the iPhone.
Your keyboard doesn't have to be tied down to just one device. Its multi-pairing, Bluetooth design sets it free so it can seamlessly sync with up to three devices at a time. Jumping back and forth between your iPad, phone, and desktop? Not to worry – the Slim Book Pro also lets you toggle between devices with just the push of a button.
Yes, three Bluetooth buttons in the upper left corner of the keyboard let you switch Ethel three pairs devices by simply pushing one button or another. It's a great idea that add value to this keyboard.
But how IS the keyboard as a keyboard? To put it as simply as possible… great.
Tapping is for Woodpeckers: Say goodbye to the hunt and peck; typing on the Slim Book Pro keyboard feels just like typing on a laptop thanks to its comfortable, responsive keys that have your back word for word.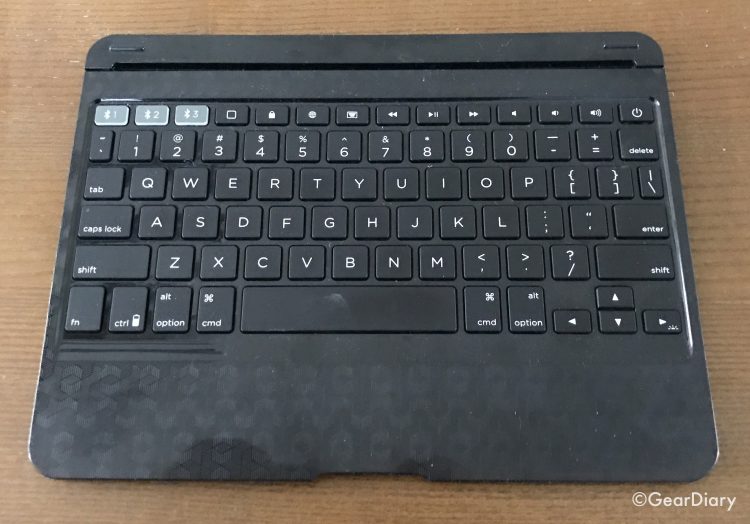 The island keys are nicely-sized, have decent play and are very responsive. Is it as good as the keyboard on my MacBook Pro? No. But this is not a full-size laptop keyboard. But as far as keyboards for iPads go this is as good as I have used.
And, of course, the keys are backlit. After all… "Inspiration doesn't stop when the sun goes down. Our backlit keys keep you typing while you're burning the midnight oil." The backlighting is easy to toggle on and off by pressing the Function key and the right arrow at the same time and does a great job if you are typing in low light or in the dark. In fact, it has three different brightness levels! And, of course, the keyboard offers a range of iPad-specific function and media keys. This is truly an iPad keyboard without compromise.
Finally, the keyboard works with the mophie Power App. It lets you check how much battery life your Slim Book Pro and iPad have left.
Features:
Magnetic Hinge & Keyboard Kickstand
Case Kickstand
Holder for Apple Pencil
Drop Protection
mophie Power App
Multi-Device Pairing and Toggling
Laptop-Like Typing
Backlit Keys
Sleep/Wake Function
Two-Year Battery
Detachable Case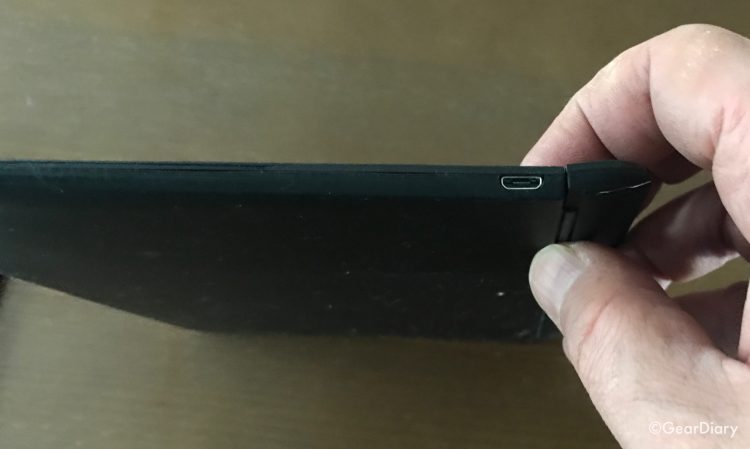 Finally, it is worth noting that the keyboard can get up to two years of function on a single charge. and when it does need t be charged you simply plug the included cable into the microUSB port and top it off.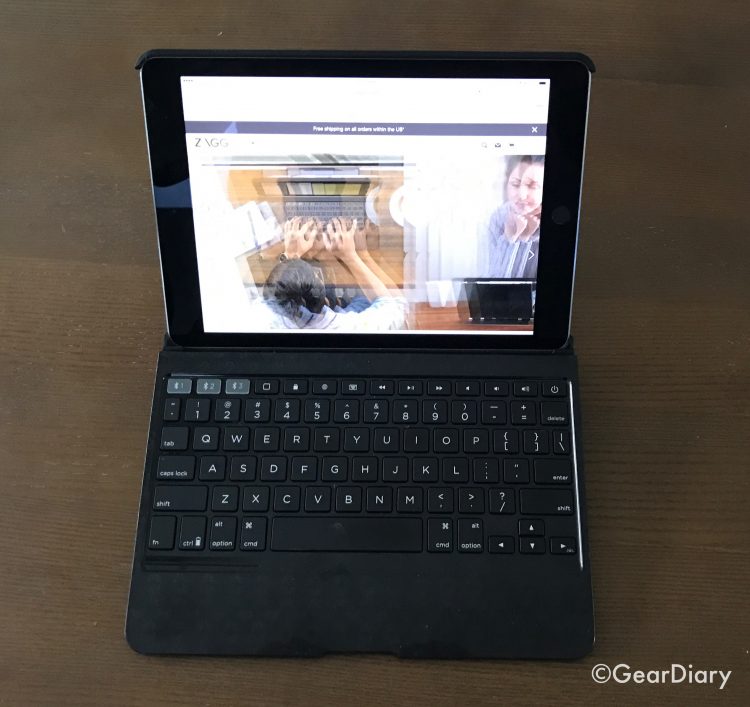 So I come back to where I started. As the iPad has gotten faster and apps have become more powerful I have seen my use of the iPad grow and, in response, my use of my MacBook Pro decline. Sure there are still things i need my laptop for but they are increasingly few in number. Adding this keyboard case into the mix modes that balance even further toward the iPad. The keyboard is great, the Apple Pencil holder means the pencil is always with me and the ability to use the keyboard with a variety of devices is a nice plus. If you are looking for a keyboard case for your iPad Pro 9.7" this is the one for you. At $159 it isn't the least expensive on the market but it is the best I have used. Check it out here.
Source: Manufacturer supplied review sample of the ZAGG slim book pro for Apple iPad Pro 9.7"
What I Like: Great keys; Pairs with three devices; Keyboard is raised for a nice typing angle; Shell protects iPad; Shell is detachable and has its own variable-angle stand; Backlit; Function and media keys; Great battery life
What Needs Improvement: So far…nothing
Want More? Follow Us Here!