I own several pair of true wireless headphones. The least expensive of the are more than $150. I have avoided the inexpensive offerings coming to market but when iFrogz offered a chance to check out their sub-$60 iFrogz AIRTIME true wireless earbuds, I figured I would check them out. I have to admit; I'm rather impressed.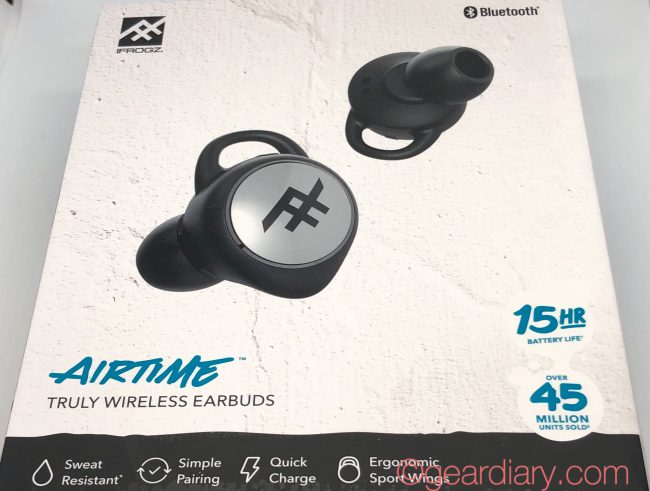 The AIRTIME are $59.99. That's half the price of the least expensive true wireless earbuds I have, and I wasn't expecting much from them. I was pleasantly surprised in pretty much every regard.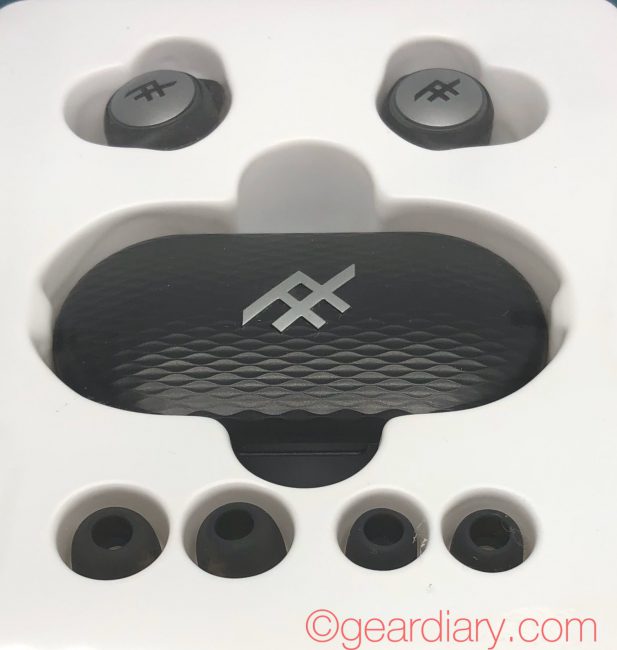 Inside the box, you get the AIRTIME Wireless Earbuds, a charging case, a micro-USB charging cable (yes, sadly, iFrogz stuck with micro-USB), three sizes of earbud tips, and a QuickStart guide.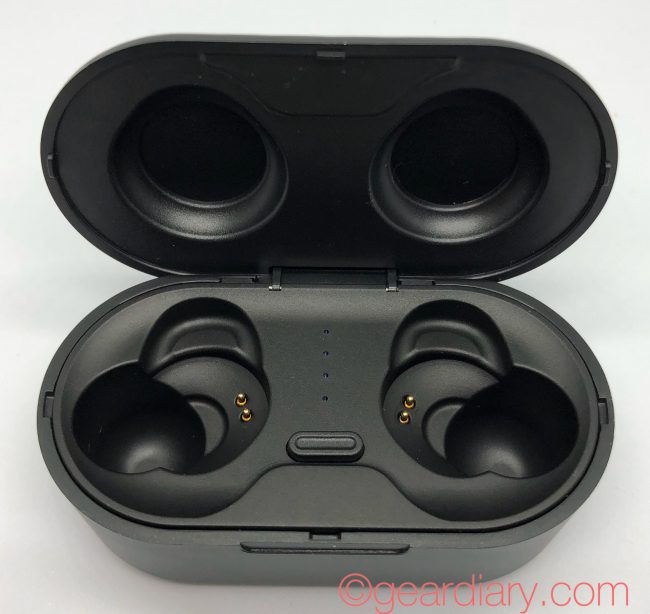 I wasn't surprised to find that the charging case is made entirely of plastic, is quite light and, if I'm honest, feels rather cheap. All but one of my other true wireless earbuds also have plastic charging cases, but they feel far more substantial. At the same time, the case does a good job protecting the earbuds when not in use and, thanks to it being so light, can easily be carried in a pocket without weighing you down. That's why the company refers to it as being "low-profile.'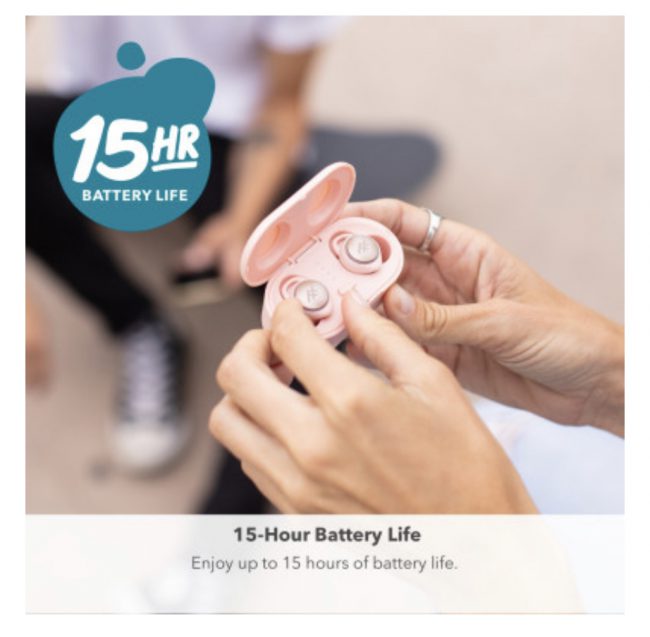 With the battery case, the AIRTIME delivers a total of fifteen hours of playback time.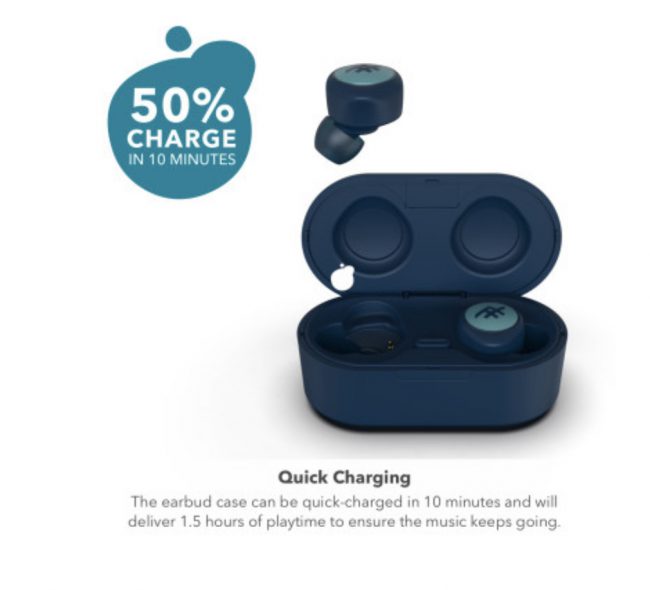 Perhaps more significantly, if you run out of juice placing the earbuds in the case for just ten minutes will give you a 50% charge so you can continue to enjoy your the music or podcast.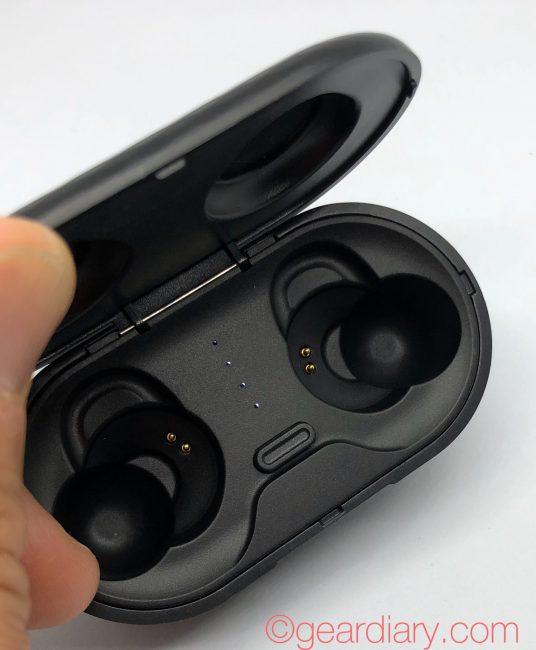 When you open the case, you will see up to four blue LEDs. These let you know how much charge the battery case still has. A physical button that sits below the LEDs can also be pressed to let you see the remaining charge. When you open the case not only do the LEDs light up but the earphones turn on, and a lighted ring around each earbud illuminates. Placing them back in the case and closing the lid turns them off.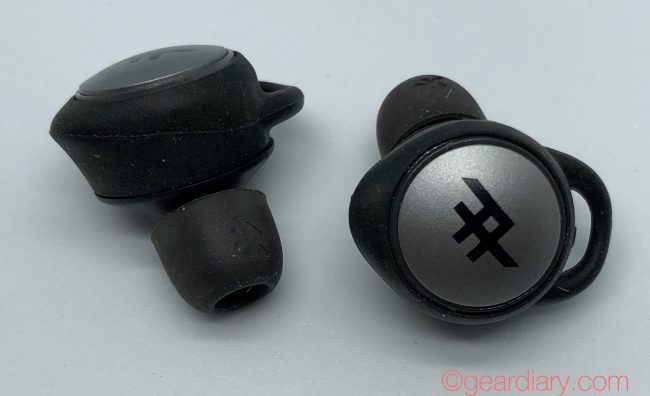 The earbuds themselves are the smallest and lightest I have tried. They look like someone took in-ear wired earbuds and simply cut off the cable. A ring of rubber runs around the outside of each earbud. It has a small bump at the bottom and a stability look at the top. The combination makes for the most comfortable and stable true wireless earbuds I have worn.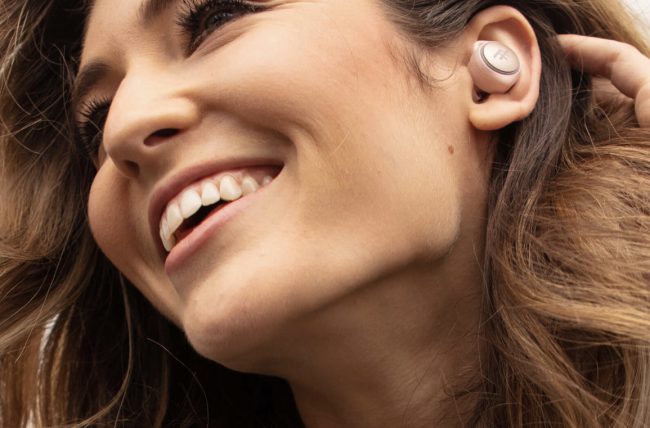 Add in the fact that the AIRTIME are feather-light and you won't know you are wearing them. And while I'm waxing poetic about the fit and comfort, I should add that other true wireless earphones stay in place by putting pressure on your ear. There's no such pressure with the AIRTIME and, as a result, I don't get a bit of discomfort during a long listening session. I'm impressed!
The company includes three sizes of earbud tips. This lets you experiment and eventually find the size that offers the best fit, best stability, and best noise isolation. I find the tips that come pre-installed best, but everyone's experience will be different.
The AIRTIME aren't waterproof, but they do carry an IPX-4 rating, so they offer protection from sweat damage and should be fine if you get caught wearing them in light rain.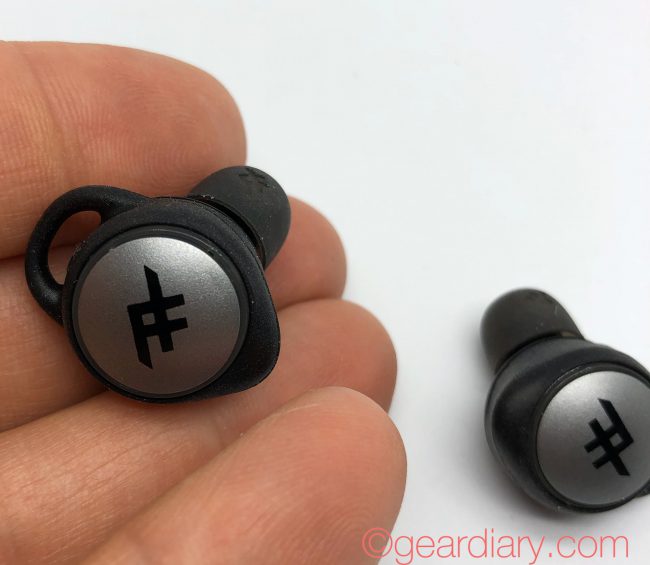 Each earbud has a silver faceplate with the iFrogz logo. These are the controls and, despite the minimalist approach to on-earbud controls, you can do much of what you need to do once you learn the system designed into the AIRTIME. A quick press will start or stop your audio. Double pressing te right earbud skips to the next track while double-pressing the let earbud jumps back to the previous song. When a call comes in a quick press will let you take the call. A quick double press hangs the phone up. If you are feeling anti-social and don't want to take a call, pressing and to hold the button for two seconds will reject it. The AIRTIME can also access Siri or other voice control systems with a double press of the button but only if there's no music playing.
Finally, pressing and holding a button for two seconds changes the EQ setting. Yes, you read that right, despite falling into the "budget" true wireless earbud category, the AIRPLAY have three different EQ settings. There is a setting for iFrogz "Signature Sound," one for podcasts and other spoken-word audio and there is one that boosts the bass. When you press and hold the button to change the EQ setting a voice tells you which setting it has moved to. As we will discuss in a moment, this is more important than you might realize.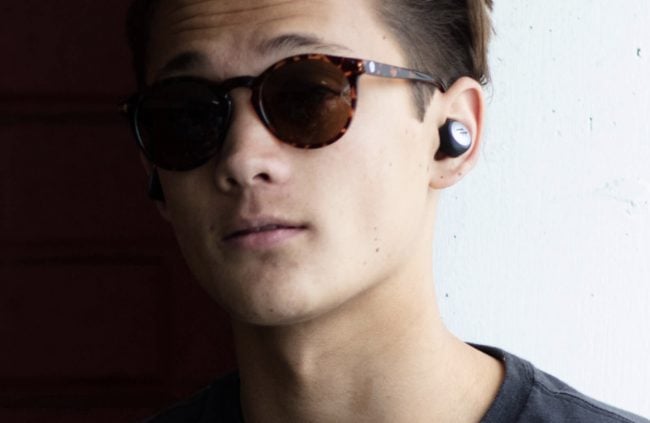 Experience truly wireless sound, with AIRTIME. With no wires to hold you back, these wireless earbuds feature an 15-hour battery life, IPX-4 sweat resistance rating, and three EQ settings so you can enjoy your music any way you want. The low-profile charging case stays charged and ready to go, and its quick-charge capabilities charge 50% in just 10 minutes. And the three included pairs of ear tips and ear wings let you enjoy a personalized fit.
As mentioned, the fact that the AIRTIME has three different EQ settings from which to choose is significant. That's because the "Signature Sound" is fairly anemic when listening to music, and the podcast setting is worse. When you switch to the bass boost EQ setting though something magical happens and the AIRTIME suddenly sound damn good. As is my practice when writing reviews of headphones, I had been listening to the earbuds while working on this review. I was unimpressed by the sound. When I got to the part of the review that mentioned the EQ settings, I started cycling through the three. I turned on the bass boost and thought I was listening to a different pair of earbuds. The sound is full, the bass is strong, and the experience is quite good. No, these aren't going to match the audio coming from something like Master & Dynamic's true wireless earbuds, but you can purchase five pair of the AIRTIME for what you will spend for those.
Features:
Quick Charging: The earbud case can be quick-charged in 10 minutes and will deliver 1.5 hours of playtime to ensure the music keeps going.
Listen in Comfort: Choose from three sizes of ear tips, so you always have the perfect fit, and ergonomic sport wings, so your earbuds stay in place when working out.
Sweat Resistant: The IPX-4 rating means you can push through your workout with confidence that your earbuds can handle sweat and light rain.
EQ Settings: Find the perfect sound for you with three different equalizer settings to choose from—Signature, Podcast, and Bass.
The AIRTIME comes in Peach, White, Black, and Blue with the battery case matching the color of the earbuds.
I was sent black and think they look pretty good.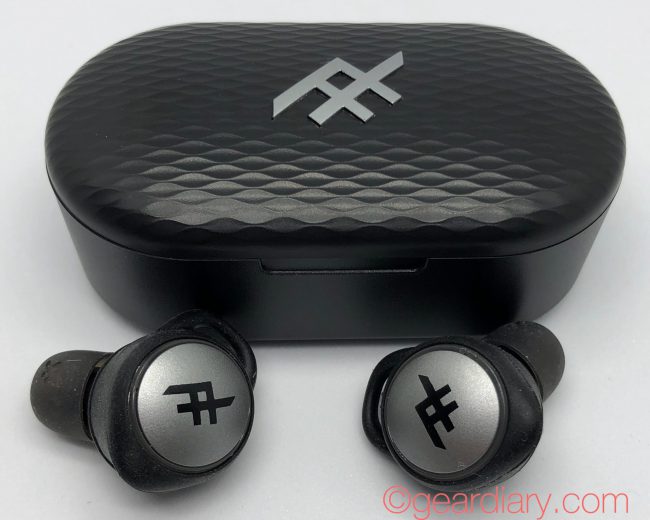 I wasn't expecting much from the iFrogz AIRTIME. At under $60, I didn't think there was anyway they could compete with some of the higher-end true wireless earbuds I have. When I pulled them out and felt how light the battery case is, my initial suspicions were reinforced. But the incredible comfort the earbuds offer and the decent-to-good sound they put out when using the bass boost EQ setting caused me to reassess. They certainly sound as good as Raina's AirPods; unlike the AirPods, they stay put and don't have that stupid white tail that announces to the world that you are using Apple's true wireless earbuds.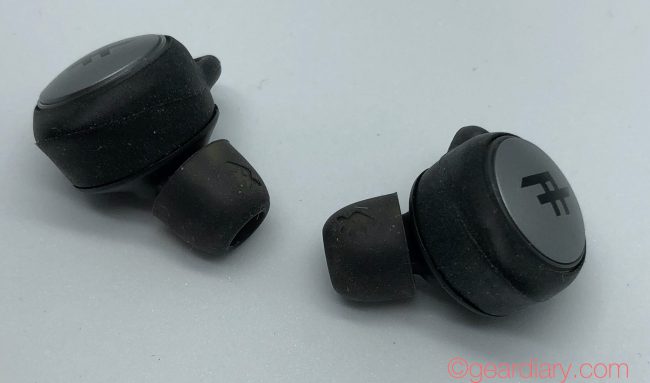 And while it is hard to write this, when it comes to comfort, I don't think I have tried anything that comes close. If you want affordable true wireless earbuds that can be worn all day without discomfort, these will do the trick. They are surprisingly good and, in my opinion, are currently the unsung heroes of the true wireless earbud market. Check them out here.
Source: Manufacturer supplied review sample of the iFrogz AIRTIME
What I Like: Under $60; Get decent battery life; Fast charge to 50% in ten minutes; Come with three sizes of ear tips; Offer three EQ settings with the bass boost delivering good sound; Light and comfortable
What Needs Improvement: Get less battery life than other true; Feel less substantial than other true wireless earbuds; Controls work, but there is a learning curve to remember the patterns that let you control your music and calls
Want More? Follow Us Here!