There are a ton of security cameras on the market these days, many of which charge monthly fees for you to access your own security camera recordings. My favorite thing about eufy Security is that their devices have excellent features and great quality video without charging cloud fees since all of your data is stored locally.
The fine folks at eufy were kind enough to send us a sampling of their latest security cameras to install around our house for testing. eufy sent their Video Doorbell, their Smart Floodlight with Camera, as well as their brand new, updated eufyCam 2 home security camera system. The combination of these cameras allowed us to keep an eye on our entire property within one single app, the eufy Security app.
The Video Doorbell covers the front door and front yard, the Smart Floodlight covers the driveway and side front yard, while the two eufyCam 2 cameras cover the backyard and the other side yard. These cameras replaced Ring cameras that we had previously been paying $30/year for the privilege of accessing our recordings.
The beauty of the eufyCam 2 system is that the cameras connect to the base station, which resides within the house and is connected via ethernet to our network. The base station maintains the video storage on microSD to keep it both safe and local so that there's no need for eufy to maintain cloud servers. You may remember our previous review on the original eufyCam system, so we'll mainly go over the upgrades in the second iteration of the system.
The major eufyCam 2 features include:
Integration with Apple HomeKit Secure Video (coming soon via update)
16GB of safe, local storage inside the home base
Cameras feature 1 year of battery life
Integration with Google Assistant and Alexa
Human detection alert
IP67 waterproof cameras
Night Vision
The biggest highlight in terms of upgrades from the first iteration is the integration with Apple HomeKit Secure Video. This gives iOS users an extra level of usability and security as well as allowing users to utilize Siri to stream live video to their iPhone or iPad. The home base has been redesigned to have a smaller footprint without losing any features.
The cameras maintain their aesthetic design as well as their fantastic features, including incredible 1-year battery life and excellent video quality. Night vision looks great and provides great clarity for those late-night recordings. The eufyCam 2 is a great option for security camera installations where you don't have an existing power source. You can get yours from Amazon for around $297.49 for a 2-camera set.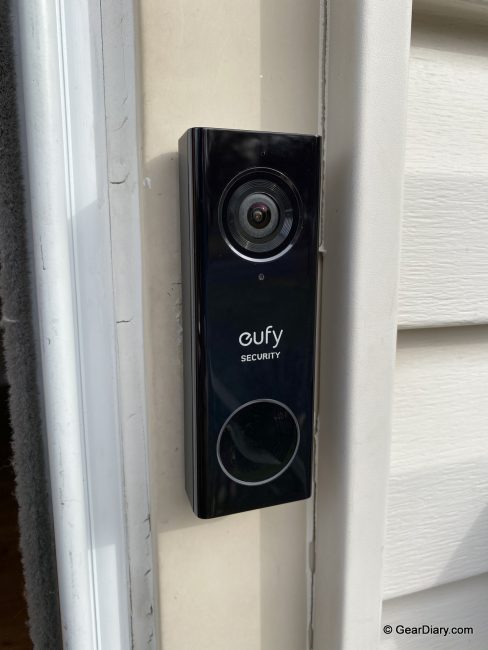 The eufy Video Doorbell is a fantastic option for those who want to upgrade an existing wired doorbell. Just like all of eufy's security cameras, it features local storage so you don't have to pay for cloud storage fees. The list of eufy Video Doorbell features include:
2K HD resolution
4GB local storage
160-degree wide-angle view
IP65 weatherproof
Human detection
Ability to pre-record a common response
Works with Google Assistant and Alexa
The Video Doorbell is easy to install as long as you understand basic electrical work. After turning off the electrical circuit, you disconnect your existing doorbell and connect two wires to the eufy Video Doorbell. The Video Doorbell even comes with a couple different angled mounts to ensure you get the best possible view with your new doorbell cam.
Eufy's Video Doorbell notifies you when it sees a person, but ignores things like dogs, deer, etc. The clarity of the video recordings is really good and makes it easy to see who's at your door, whether its night or day. The Video Doorbell has an HDR feature that ensures you get clear video even when there's bright backlighting, which is great for our situation because we often have the sun facing our door. We would sometimes get false alerts for shapes that look like a person, so the AI isn't perfect, but it gets it right 95% of the time.
Unlike its competitors, the eufy Video Doorbell comes with a plug-in speaker in the box that alerts you to someone ringing the doorbell in the house. Similar to Ring's Chime device, the Video Doorbell chime plugs directly into a household outlet and syncs simply and easily with your doorbell. It's perfect if you have a babysitter watching the kids but don't want to share access to the eufy Security app with them. You can change the volume of the ring within the eufy Security app.
The 4GB of local storage is located inside the doorbell itself, which honestly does not feel as secure as the eufyCam 2 system's storage. My concern is what would happen if someone with malicious intent destroys the Video Doorbell with a hammer. Will you still be able to access the recordings if the doorbell itself is destroyed or even just offline due to damage? With the eufyCam 2, the storage is located in the home base, which is inside your house, so even if your eufyCam 2 camera is destroyed, you'll still be able to access the recordings.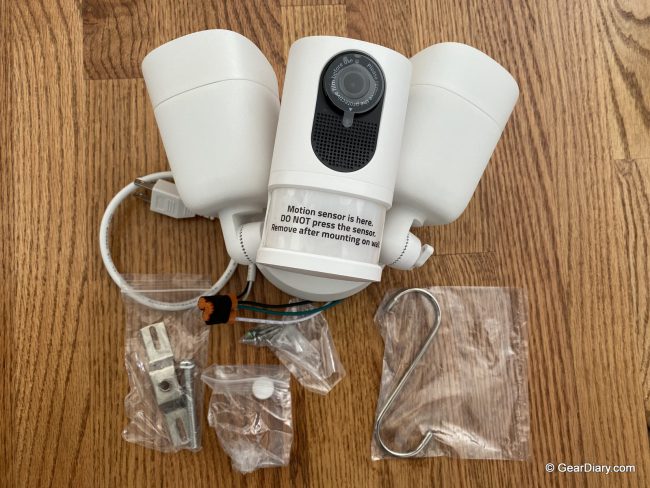 The last (but not least) security camera that I installed was the Smart Floodlight with Camera, which is exactly what it sounds like. It replaces an existing floodlight and adds security camera functionality, which extremely convenient, since you already have power there. Similar to the Video Doorbell, you simply hook up the two wires, plus ground wire, and you're pretty much set. Install was a breeze thanks to eufy having the foresight to include a metal hanger that allowed me to hang the floodlight while I was connecting the wires while standing at the top of a ladder.
The direction of the LED lights are totally adjustable, however, the camera is less so. The LED lights are super-bright and were a huge improvement over our previous metal halide lamps. They make it look almost like daylight out on our driveway at night. The video and audio quality is what I'd come to expect from eufy; crystal clear. You can customize the motion sensitivity and even put it in "motion test mode" where you can walk up the driveway and the status LED will blink when it detects motion so you know its set properly. The video storage is local to the Smart Floodlight with Camera, which features 1080p quality video with the ability for 2-way audio.
Within the eufy Security app, you've got a ton of customization options. You can choose the areas in which you want activity notifications on each camera, you can change the sensitivity of the motion alerts, and on the eufyCam 2 cameras, you can actually have it ignore anything other than humans. You can also choose the interval between motion alerts, grant other people access to the cameras, like your spouse, and a lot more. The eufy Security app is fully featured and great for keeping track of your home's security.
You can purchase your eufy security cameras directly from eufy or from Amazon.com [affiliate link].
Source: Manufacturer supplied review sample
What I Like: Great mobile app; Simple, intelligent alerts; Human detection on some cameras; Free local storage, no cloud storage fees; Easy installation; Crystal clear audio and video
What Needs Improvement: Nothing I could find, though I'm concerned the local storage in the Smart Floodlight and Video Doorbell could be damaged, therefore destroying the evidence
Want More? Follow Us Here!