In addition to the Nomad Rugged Case for iPhone 12 we recently reviewed, we have also had a chance to check out the new Nomad Rugged Folio for the iPhone 12. It offers the same great protection as the Rugged Case while protecting the iPhone's screen and letting you leave your wallet at home.
The company describes the Rugged Folio this way:
Rugged Folio is a sleek and functional leather folio case that offers rugged protection for your iPhone. Built with a high-grade polycarbonate body, an all new internal shock absorption bumper, and a raised TPE bumper along the perimeter of the screen, Rugged Folio provides maximum protection for your iPhone. With 3 card slots and 1 cash slot, this folio offers ample storage for your essentials. Wrapped in supple Horween leather, Rugged Folio will develop a patina with time and takes on a look as unique as you.
I initially planned on combining my reviews of the Rugged Folio and the Rugged Case because, to a large degree, despite one being a folio and the other not, they are the same case. I ended up writing two reviews because each case deserves attention in its own right. With that noted, though, I'll refer you back to the Rugged Case review for many of the details; the reason for that will soon become clear.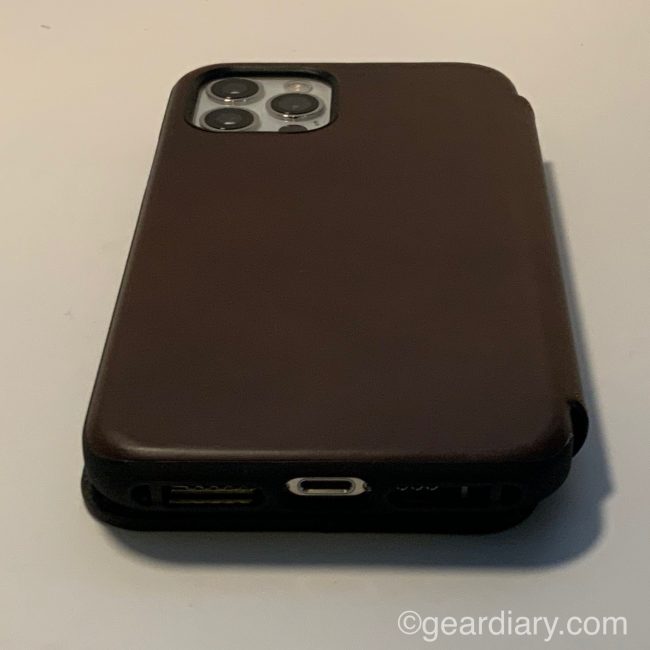 Like the Rugged Case, the Rugged Folio is also made using beautiful Horween Leather. It also has a new internal shock absorption bumper and a TPU bumper that runs around the case's entire exterior. The result is that, like its sibling, the Rugged Folio is now able to protect your phone against drops up to 10ft.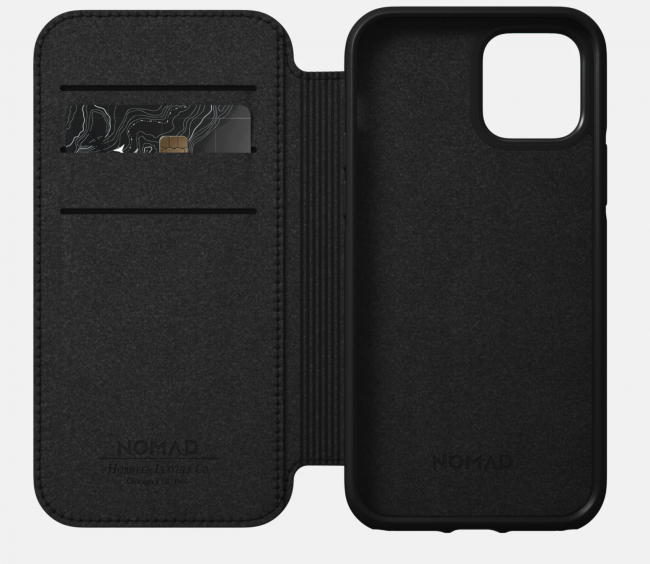 Similarly, like the Rugged Case, the Rugged Folio has a protective interior microfiber lining and dual lanyard attachment points for extra protection. Like the Rugged Case, the Rugged Folio offers just a bit of lay-on-the-table protection for the phone's screen (it rises 1.15mm above the display) and a ring of protection around the camera cutout on the back.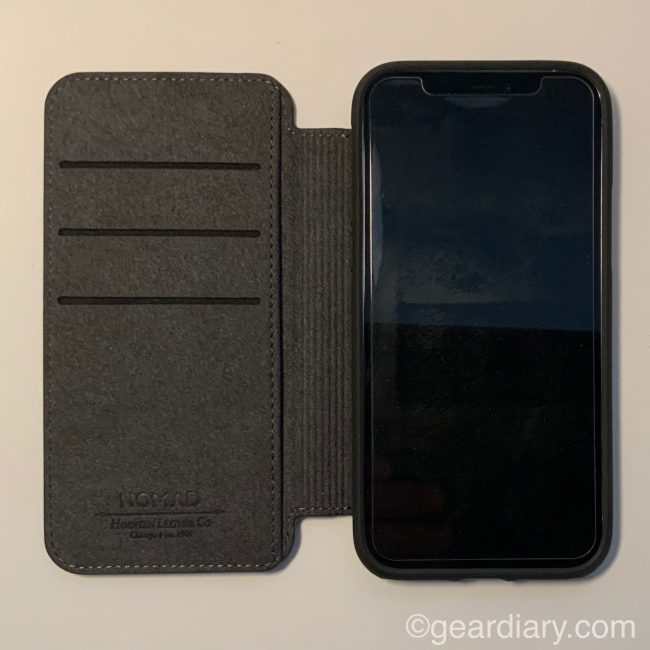 In fact, if you cut the cover off the Rugged Folio, you would have a Rugged Case.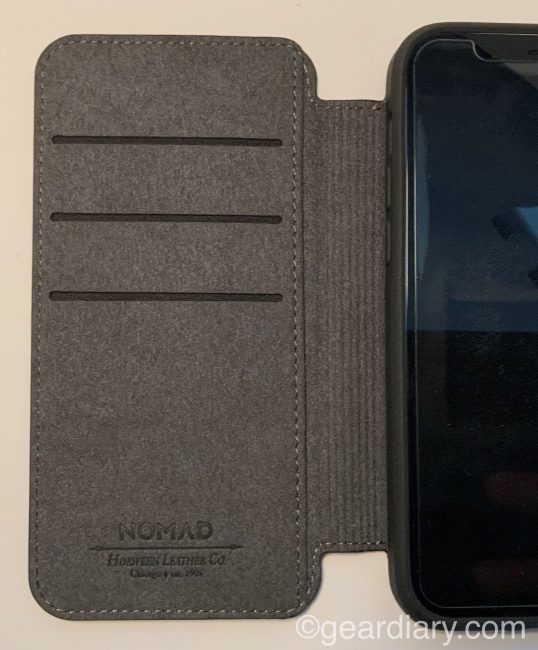 But the Rugged Folio does have a cover, and that makes it compelling in its own right.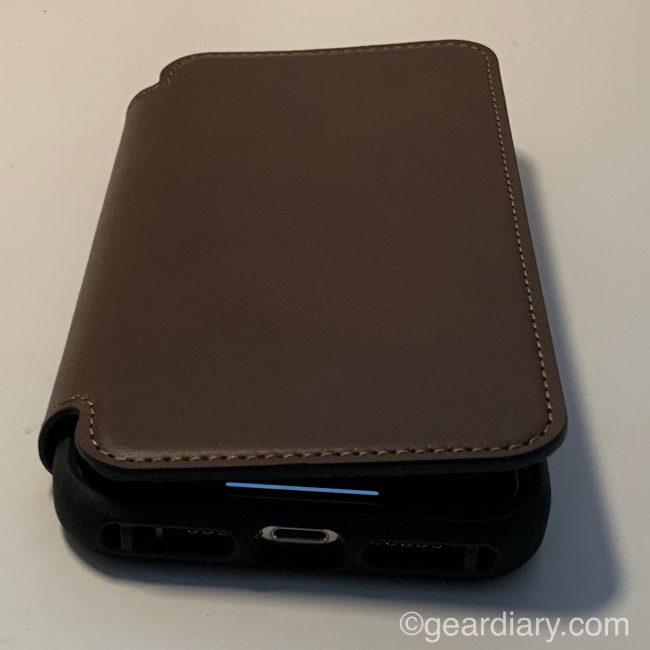 When closed, the Rugged Folio's 2.5mm-thick folio cover offers super protection for the screen of the iPhone 12. When opened, the interior of the Rugged Folio's cover has three card slots and a single cash slot. That means the Rugged Folio can not only protect your new iPhone, but it can also replace your minimalist wallet and let you travel even lighter… assuming we can begin traveling again someday.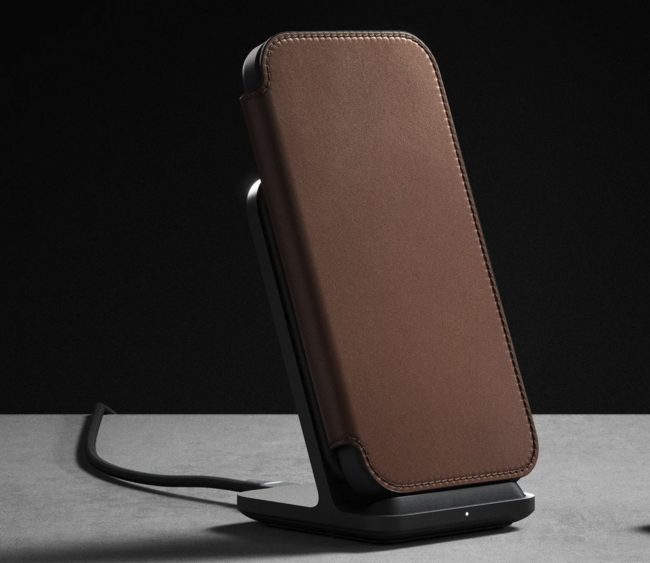 No, the Rugged Folio can't replace your overstuffed trifold wallet, but it can let you leave your wallet at home. This is especially true if you use Apple Pay and no longer need to have physical credit cards with you. It is a nice bit of convenience, but I would recommend using a screen protector since, when closed, the folio put the cards stowed in it next to the display.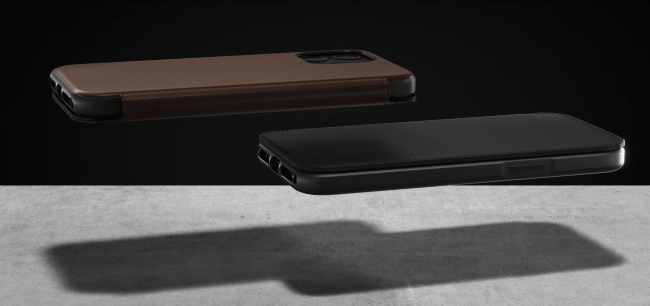 Features and Specifications:
Rustic Brown Horween leather from the USA
Develops a rugged patina
3 card slots
1 cash slot
10ft drop protection
Internal shock absorption bumper
Compatible with wireless charging
Dual lanyard attachment points (Note: Lanyard not included)
Screen protector recommended for preventing possible micro scratches from your credit cards
Here's our video look:
Finally, like the Rugged Case, the Rugged Folio works with Qi wireless charging but may not be entirely compatible with Apple's new MagSafe system. The company is also readying an updated version of the Rugged Folio that will be more compatible. If you purchase one of the current cases now, you can receive the updated version for 50% off when it is released.
The Nomad Rugged Folio for the iPhone 12 sells for $69.95; it is available directly from the manufacturer.
Source: Manufacturer supplied review sample of the Nomad Rugged Folio
What I Like: Beautiful Horween leather; Minimalist but offers good protection; Sleek design looks great and will age nicely; Qi-wireless charging compatible; Includes lanyard straps; Folio cover protects your iPhone's screen and adds slots so you can carry cards and money without your wallet
What Needs Improvement: Current design is not fully compatible with Apple's MagSafe charging; Lanyard attachments but no included lanyard
Want More? Follow Us Here!