The Lowdown
The Cloudious9 Atomic9 Vaporizer isn't perfect, but it has a lot going for it.
Pros
Simple to use
Easy to clean
Six different heating settings
9-12 sessions per charge
Scoop makes loading easy
Affordable
Small, well-built, and discreet
Cons
Uses legacy micro USB port for charging
Takes over two hours to charge fully
When it comes to "gear," one of the best recent trends has been seeing how technology advances are transforming the medical and recreational cannabis business. One example is the Cloudious9 Atomic9 Vaporizer. At under $60, it is small, discreet, heats rapidly, and is a pleasure to use.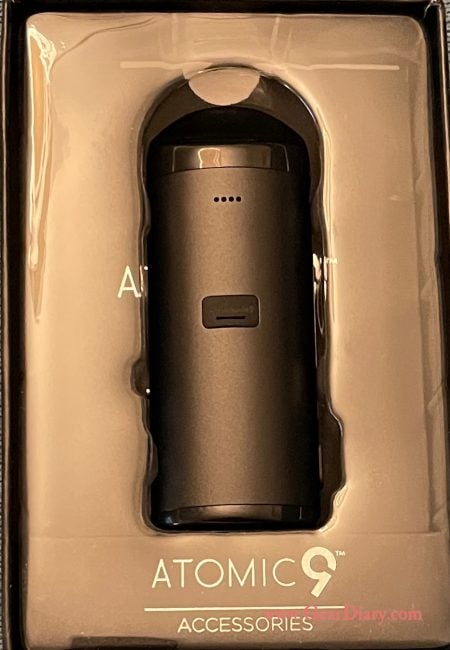 The market for cannabis accessories has exploded in recent years. New heating technologies have made it possible for vapes to reach temperatures faster than ever. Increasing numbers of vaporizers have Bluetooth built-in so that the device can connect to an app on your phone or tablet. This gives you real-time information on dosing, finer control over temperature, and more. They also make using the vaporizer a more complex process and, as one might expect, jack the price up significantly. It's not unusual to find vapes designed for flower that cost one, two, or even three hundred dollars. It is a far cry from rolling papers that cost just a few pennies per sheet or simple glass bongs that cost fifteen dollars and worked so long as you didn't drop and break it.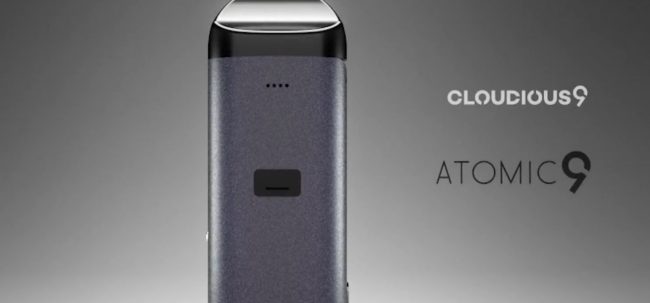 The Atomic9 Vaporizer comes from Cloudious9, a company that knows how to leverage these new technologies. That can be seen in our review of the company's Hydrology9 Vaporizer. At the time of our review, that vaporizer had a price tag of $250.
The company also offers the Atomic9 now; at under $60, it is far more affordable. There's no Bluetooth. There's no app. In fact, there are no real innovations that will make you stop and go, "Wow… how cool is that." It does have the latest and greatest tech, like dual-layer heating but employs it discreetly to enhance the experience of using it. The result is a great vaporizer experience that doesn't take an advanced degree and won't break the bank.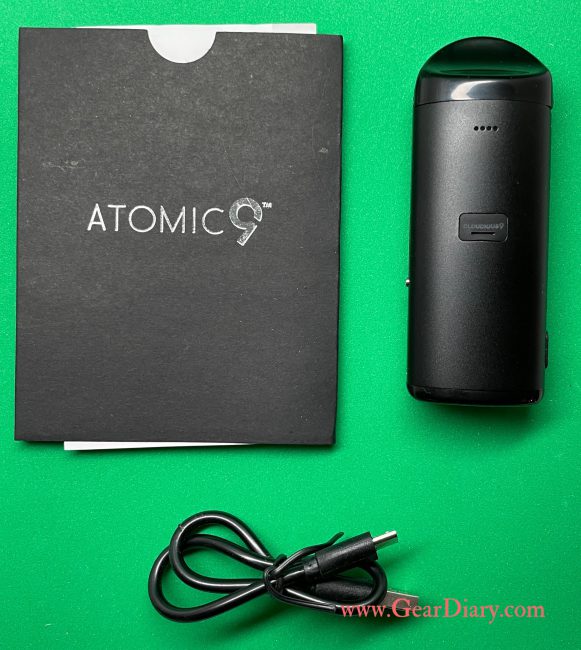 At the heart of the Atomic9 Vaporizer is a revolutionary and patent-pending "Dual Layer" heating technology that combines the vapor consistency of convection heating with the space and energy efficiency of conduction heating. It creates a hybrid heating process without the large battery and heating path requirement of a standard convection heating vaporizer, resulting in the smallest and most cost-effective convection heating vaporizer currently on the market.

Cloudious9 Atomic9 Vaporizer Features
Patent-pending "Dual Layer" heating technology
Rich convection quality vapors
Six adjustable temperatures ranging from 356F to 428F
Patent-pending "Retractable Herb Loading Shovel"
Pocket-sized design
Rapid vapor cooling chamber
One button user interface
Full access cleaning with removable residue and cooling chambers
Matted finish aluminum alloy body
Flip magnetic mouthpiece
Heats in 30-45 seconds
Specifications:
Size: 1.45″ W x 3.85″ H x 0.88″ D
Weight: 2.6 oz
Time to reach 356F: 30 Seconds
Battery: Rechargeable 900mah Lithium-Ion Battery
Charging Time: 2 – 2.5 Hours via micro USB
Chamber Size: 10mm/0.39″ Diameter, 18mm/0.71″ Depth
Sessions Per Charge: 9-12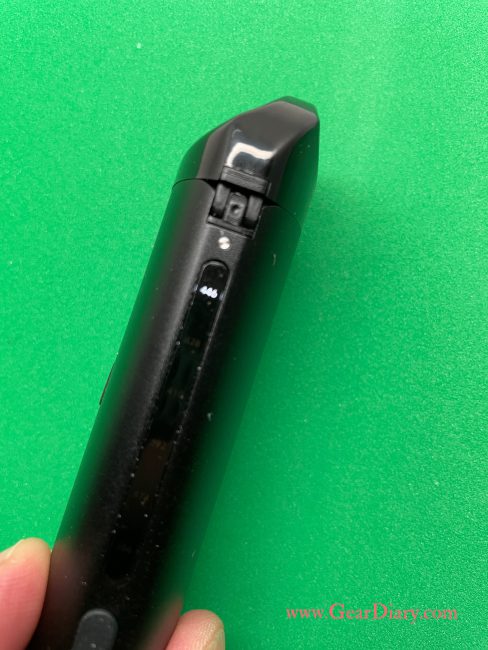 The Atomic9 Vaporizer measures 1.45″ W x 3.85″ H x 0.88″ D and weighs just 2.6 oz. That makes it on the small side and allows you to carry and use it discreetly. It has an Anodized Aluminum body that feels great in hand and will likely be quite durable. That's important since this is the type of dry herb vaporizer you will like want to carry with you. Magnets are fun!
The magnetic mouthpiece easily flips open for loading, and then just as easily, it closes and locks in place.
The "rapid vapor cooling chamber" allows the vapor to cool just enough before inhalation making the vapor less harsh and richer tasting.
It is easily removable for cleaning!
Two innovations make this vaporizer stand out. The first is the retractable herb loading shovel. The Atomic9 Vaporizer has a "shovel" hidden beneath the magnetic mouthpiece. When the mouthpiece is lifted and the slider along the side pushed toward the top, a small, curved piece of metal emerges from the device. To load the Atomic9, you scoop some dried flower and then raise the vaporizer allowing gravity to move the material from the shovel into the oven. It is a clean, low-tech, simple solution to one of the challenges of using a dry herb vape.
The second indication is the "residue cleaning chamber and detachable vapor cooling chamber. On the middle of the Atomic9's body, there is a small piece of rubber. When on, "Cloudious9" appears in illuminated letters. This rubber piece can be removed using any flat tool so you can clean any of the residue that has been collected.
In addition, you can open the top of the Atomic9 and push any residue remaining in the loading chamber down into this area for cleaning as well. And, as mentioned, the "vapor cooling chamber" at the bottom of the mouthpiece can also be removed and cleaned. If you have ever tried to clean a basic vaporizer or water pipe, you know how convenient it is that the designers of this vaporizer made ease of cleaning a design focus!
Finally, the patent-pending dual-layer heating technology combines the smooth, consistent heating of convection heating with the efficiency of conduction heating. That's a fancy way of saying that the Atomic9 Vaporizer employs technology for heating your herb of choice in a smooth and consistent manner that will delight even the most experienced of vape-users.
Instead of an app that lets you adjust the temperature precisely but adds another layer of complexity to something that should be simple, the Atomic9 Vaporizer has six adjustable temperatures from which you can choose. These range from 356F to 428F and can be toggled through right on the device itself. The temperature can be seen in the illuminated strip on the side of the Atomic9.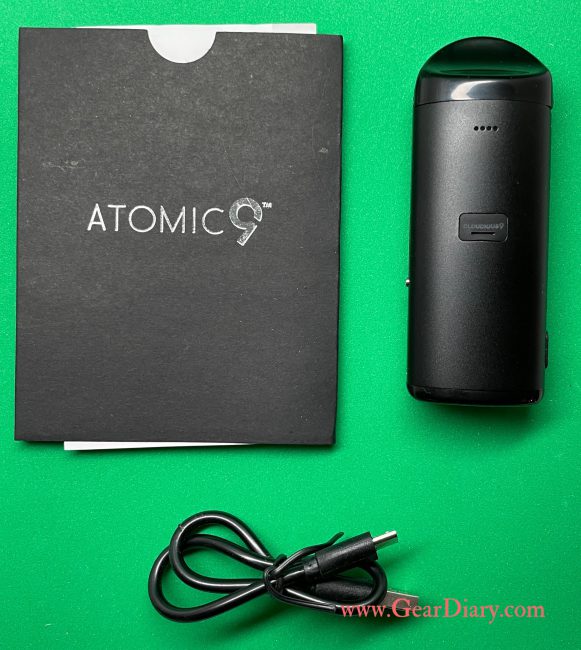 Charging the Atomic9 takes about two to two and a half hours. Thanks to the rechargeable 900mah Lithium-Ion Battery, you can expect to get at least nine sessions before needing to recharge the unit.
To turn it on, you press the small button on the side toward the bottom three times. The vaporizer immediately turns on and is ready to go in about thirty seconds. Holding that same button for three seconds puts the unit into temperature adjustment mode. Once in this mode, each press of the button incl readers the temperature by one step. Once the highest temperature is reached, the next press of the button starts the process of cycling through temperatures once again.
In all, this is a small, portable vaporizer that looks simple but packs a punch. So, to review, the Atomic9 Vaporizer features:
Six Adjustable Temperatures: Temperature settings ranging from 356F to 428F produce rich, consistent convection quality vapors dialed into your specific temperature preference.
Dual-Layer Heating Technology: A revolutionary and patent-pending Dual Layer heating technology that combines the vapor consistency of convection heating with space and energy efficiency of conduction heating. The result is the smallest & most economical convection quality vaporizer ever made.
Retractable Herb Loading Shovel: The patent-pending Retractable Herb Loading Shovel tackles the inconvenience of choosing between painfully pinch loading the herb or rushing to create a potential mess. The Herb Loading Shovel makes loading the chamber quick and easy, even if you are on the go.
Magnetic Mouthpiece & Rapid Vapor Cooling Chamber: The magnetic mouthpiece features a detachable rapid vapor cooling chamber, which minimizes the inhaling airpath length while cooling the hot vapor for a perfectly tempered and rich-tasting vapor.
Full Access Cleaning: Cleaning is made easy by design with a Residue Cleaning Chamber and Detachable Vapor Cooling chamber. All areas with the potential of residue buildup over time are easily accessible or detachable for the ease of cleaning.
Anodized Aluminum Body: Featuring an Anodized Aluminum body, the Atomic9 was painstakingly designed as a durable, pocket-sized, user-friendly dry herb vaporizer.
I've enjoyed using the Atomic9 Vaporizer. It is simple to use but has the advancements that make this a far better experience than we have seen with many other small, portable vapes.
The company was kind enough to send us two review samples. We passed one of them to someone who does not usually write reviews. Here's what he shared about his experience with the Atomic9 Vaporizer,; our responses in bold.
Overall, my experience of Cloudious9 Atomic 9 Dry Herb Vaporizer was highly positive. While the experience of smoking from it does not give the [sometimes desired] experience of smoking from something that actually burns the material loaded into it, the alternative experience from this device is nonetheless enjoyable. [We agree. The convenience of a vape is significant, but there are times when going "old school" is a better fit for the moment.]

It is comfortable to hold and pull from. It gets hot but not too hot. [We also noticed the unit getting hotter than most of the portable vapes we have tried, but it never got uncomfortably hot. The small, curved design is a pleasure to hold.]

As someone who likes to fidget, the different materials, knobs, buttons, and openings allow for additional tactile enjoyment while smoking. As per effectiveness, the device heated up the herb surprisingly rapidly, and the vapor came through with ease and intensity. [We've reviewed numerous vapes, and the ease of use, easy draw, and voluminous clouds of vapor continue to impress us.]

Our tester's only criticisms were the following:

(1) The controls from the single small power button are confusing, and it is easy to accidentally turn the unit off instead of changing the temperature. [We've never had this problem and actually appreciate the simplicity of the one-buton design.]

(2) The shovel is lovely in theory but less helpful in practice. It was easier for me to load in the herb without it. The shovel isn't flush with the ceramic convection hold, which means that I still had to manually place the herb into the hold. [Could not disagree more. The convenience of the scoop has us wishing every company would add something similar.]
The Atomic9 Vaporizer isn't perfect, but it has a lot going for it. It is affordably priced, which means it is accessible to a great number of potential consumers. It is simple to use and doesn't complicate things with Bluetooth and apps. It is designed to make cleaning as simple as possible. It heats up fast and offers a uniform experience. The battery will last a long time and is replaceable. With cannabis legalization rapidly spreading accords the US, it deserves greater visibility to help others know there are affordable dry herb vapes that really work.
The Cloudious 9 Atomic 9 Vaporizer sells for $59.99, and it is available directly from the manufacturer as well as from other retailers.
Source: Manufacturer supplied review sample
What I Like: Simple to use; Easy to clean; Six different heating settings; 9-12 sessions per charge; Scoop makes loading easy; Affordable; Small, well-built, and discreet
What Needs Improvement: Uses legacy micro USB port for charging; Takes over two hours to charge fully
DISCLAIMER:
The statements made regarding these products have not been evaluated by the Food and Drug Administration. The efficacy of these products has not been confirmed by FDA-approved research. These products are not intended to diagnose, treat, cure or prevent any disease. All information presented here is not meant as a substitute for or alternative to information from healthcare practitioners. Please consult your healthcare professional about potential interactions or other possible complications before using any product. The Federal Food, Drug, and Cosmetic Act requires this notice.
Vaping products are only intended for sale to adults 21 years or older. The reviews and information posted on this site are not intended to be used as a substitute for professional health or medical advice and/or information, as no two people are alike. You and your doctor know your body best, and you should always get professional advice that is specific to you before trying any of the suggested actions, solutions, remedies, or instructions found on this site. The owners, editors, contributors, administrators, and other staff of Gear Diary LLC and Gear Diary are not qualified medical professionals, and the materials presented here are not intended to be nor do they constitute actionable professional advice.