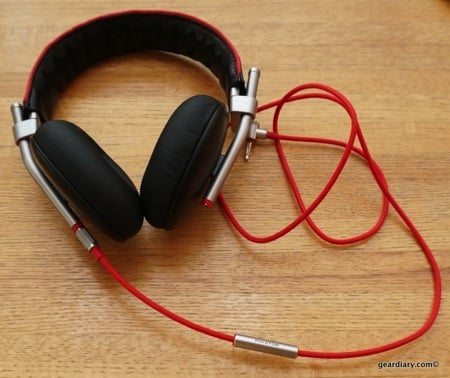 Sexy and stylish are the only way I can describe the Phiaton Bridge MS500 headphones. That came as a surprise, considering I have been impressed with the sound of previous Phiaton headphones I've reviewed, but I would not have described any of them as particularly stylish. (The Moderna MS200 did come close.) The Bridge MS500 headphones bring style to the Phiaton lineup even as they bring a premium price tag of $299. Does high style merge with great sound when it comes to the company's marque headphones offerings?
Read on to find out.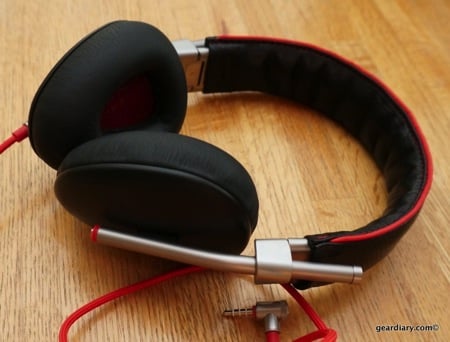 As you can see, inside the box you will find:
The Bridge MS 500 Headphones

A Carrying Case

A 6.3 mm Adaptor

A Straight Audio Cable

A Cable with in-line Control and Microphone

A Warranty Card
Specifications:
High quality dynamic speakers: 40 mm

Frequency range: 15 Hz ~ 22 kHz

Impedance: 16 Ohm

THD: Less than 1% at 1 kHz

Sensitivity: 99 dB at 1 kHz

Maximum input power: 1,000 mW

Weight: 250 g (without cord) / 0.55 lb (without cord)

Cord Length: 3.6 ft / 1.2 m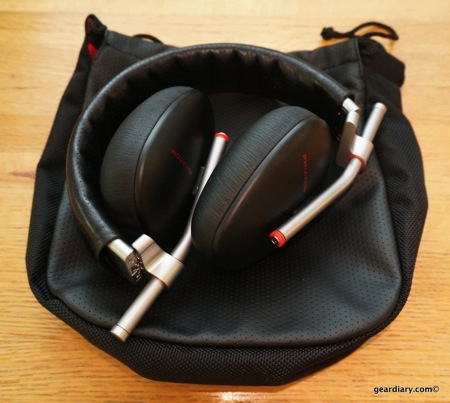 The included bag is a nice add-on, although I would have preferred to see the company include a hard case. I've been a bit spoiled by my look at a few of the headphones in Scosche's current lineup, and the fact that they include both a hard and a soft case with their headphones. While that may be overkill, I would like to see premium headphones ship with a case that will actually protect your investment. A soft case is certainly better than no case at all, but still…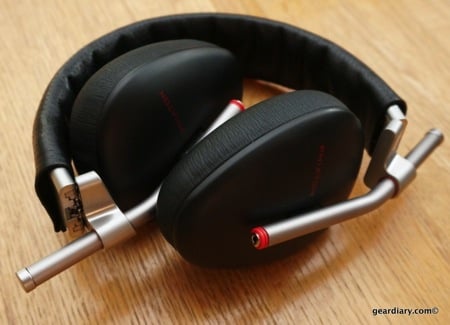 The headphones feature what Phiaton refers to as "Ez Fold". This is marketing-speak for the fact that the Bridge MS500 headphones fold into a relatively compact package that fits into the included carry bag. This is a nice feature, although in 2013 it is something I have come to expect.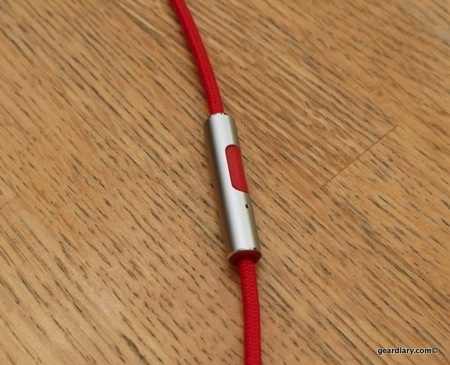 I'm mixed on the inline microphone control that ships with the headphones. To their credit, Phiaton ships the Bridge MS500 headphones with both a straight cable and a cable with an inline microphone and control. Both cables are covered in a red, tangle free woven material that looks and feels great. The cables — as well they should — scream "premium product". That noted, I was a bit disappointed with the inline microphone and control. The microphone works well but the "control" aspect falls short. The one-button control will play or pause music, launch Siri or skip tracks, but there is no volume control on the cable or headphones themselves. I'll admit the result of there being just one button on the remote is a far more solid assembly, but I do which I could adjust the volume without having to go directly to the audio source.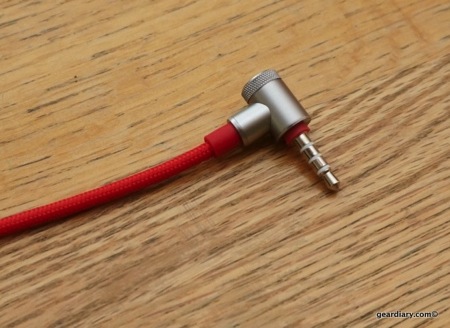 I've got another complaint when it comes to these headphones. The cable, as I noted, is impressive. The jacks on either end are as well. Both are made from metal and the 3.5mm jack that plugs into the audio source not only has a 90? angle, but it has a nice industrial design all its own. Moreover, as Phiaton's marketing-speak notes, "'Oxygen Free Copper' cables provide 99.99% purity helping to ensure a clean connection and minimal audio distortion."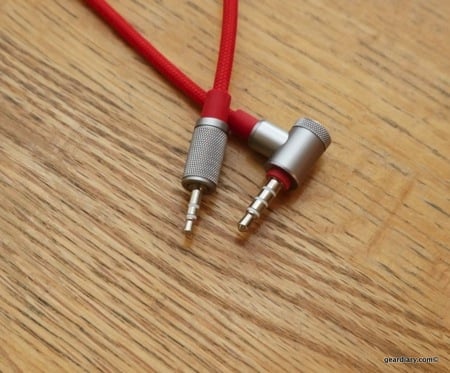 My issue with the design is simple: while the jack that goes into the audio source is the standard 3.5mm design the jack that goes into the headphones is smaller. I would much have preferred the company use a standard 3.5mm to 3.5mm design here. A huge deal? No, but a deal none-the-less.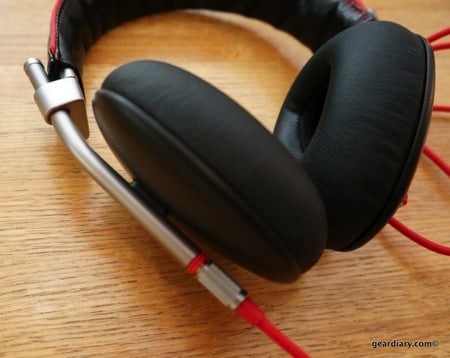 Why did they opt for a jack that is smaller than the ubiquitous 3.5mm standard? Because the Phiaton Bridge MS500 headphones connect to the cable via the ear cup post rather than the ear cup itself. Why does the cable plug into the post rather than the ear cup itself? The answer is simple: Phiaton is phreaking smart!! They figured out that by having the cable connect to the headphones away from the ear cup itself, they are able to keep the cord from rubbing against the face of the person wearing them. I switched between these headphones and a pair that use the standard "connect to the ear cup" design, and there is no question having the cable sit away from my face was a far better option.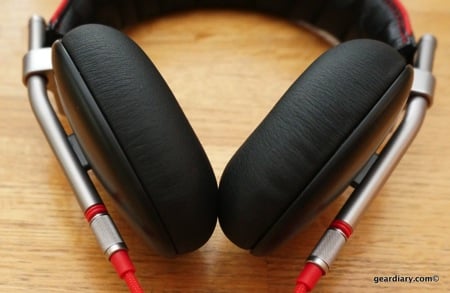 And there's more. Phiaton designed the headphones so you can plug into either of the two ear cup posts. That means the cable can be on the left or the right and, in both cases, be set a distance from the face of the person wearing them. Phiaton refers to this as "Ambidextrous Inputs".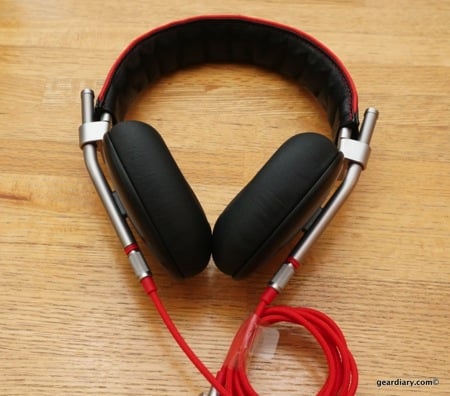 The Bridge MS500 headphones have a rather unusual design that stands out in an ever-more-crowded market. A leather headband wraps around an aluminum frame. The frame, in turn, ends in a metal hinge that then contact to a metal seat into which slip the ear cup posts. The posts, like the main frame of the Bridge MS500 headphones are also made of aluminum. In all, these are headphones made from among the most premium materials we have seen.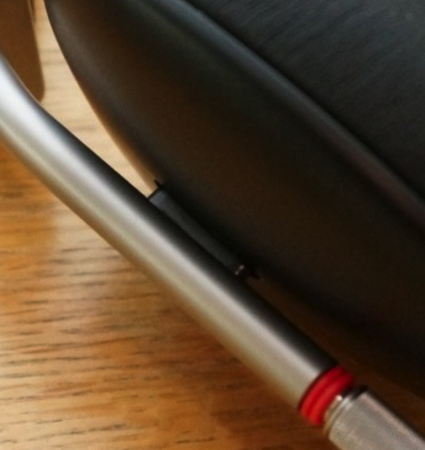 The leather and plastic ear cups appear to attach to the aluminum posts with plastic. This connection point offers a bit of movement and allows for the ear cups to sit comfortably over the ears. Whether or not this plastic attachment point ends up being the weak link in an otherwise superbly built pair of headphones waits to be seen. It is a concern for me and if we do see stress failures with these headphones I would bet this is the point at which it occurs. Other than this connection it is worth noting that these headphones are as well-constructed as any we have seen.
The sound from the Bridge MS 500 headphones is excellent. Designed with a "dual-chamber structure" that provides rich detail and clear, more powerful bass. This was no small design choice. As the product page explains,
Whether on an electric guitar, violin or bass, the bridge is an essential component to creating sound in an instrument. Much like the bridge on a well-tuned instrument, Phiaton's Bridge Headphones expertly deliver authentic sound to your ears, transporting your music, the way it was intended to be heard. Phiaton's Bridge Headphones integrate qualities similar to those found in a great instrument, matching superior audio performance with a stunning, sleek design. Its dual-chamber structure and multi-tune acoustic design offer high-end performance and sound quality, combining the excellent bass response of closed ear headphones with the crystal clear high-frequency response of open-style headphones.
I knew the Phiaton Bridge MS 500 headphones were something special when I first saw the release announcing them, and they did not disappoint. The MS 500s are made from top quality materials, have a fit and finish that is superb, and they have an unusual design that is not only eye-catching but also adds to both the comfort and the sound they offer. Get these, and you will not only enjoy good music for years to come, but you will stand out without looking like you are trying to work too hard at it. You can learn more here on the Phiaton website.
MSRP: $299
What I Like: Look great; Quite comfortable; Come with two cables, one with an inline mic and remote; Design holds the cable away from your face; Cable inputs on both sides; Sound terrific
What Needs Improvement: Single button controller; No hard protective case included; Don't use a 3.5mm to 3.5mm cable
Source: Manufacturer supplied review sample
Want More? Follow Us Here!