If you read my recent review of the Flo by Moen Smart Water Shutoff, you'll know that taking control of your home's water system can be a simple way to protect yourself from huge water damage insurance claims in the future. Flo by Moen's Smart Water Detector takes that idea one step further by detecting water at specific locations.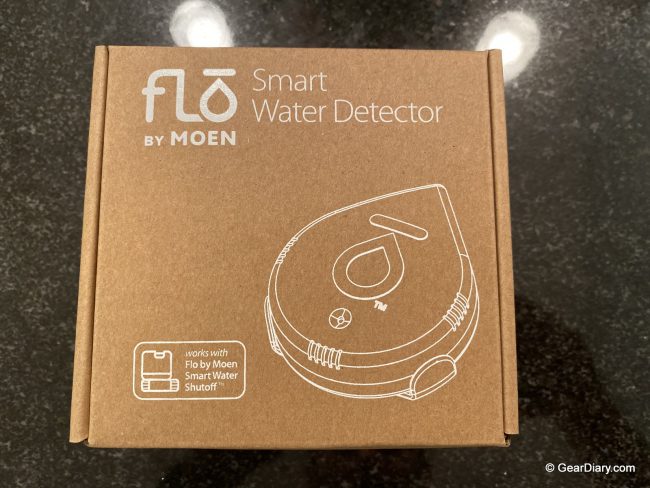 The Smart Water Detector from Flo by Moen integrates with their much-improved smartphone app to give you real-time data and alerts to changes in temperature, humidity, as well as standing water. The app has customizable alerts, allowing you to increase the humidity alert threshold if your laundry room, for instance, is more humid than a typical room. The Smart Water Detector also integrates with the Flo by Moen Smart Water Shutoff, allowing it to shut off your water main if it senses a leak. While the Smart Water Shutoff integration is a fantastic feature, the Smart Water Shutoff is not required to use the Smart Water Detector.
The Smart Water Detector comes in two basic parts; the Smart Water Detector itself and the included Remote Sensing Disk. The Remote Sensing Disc connects to the Smart Water Detector via cable and can be placed on the floor, inside a cabinet, or anywhere else in your home where you're vulnerable to leaks, like near the water heater, toilets, or washing machines. The Smart Water Detector comes with a 3M double-sided tape, so you can adhere the detector to the wall and place the Remote Sensing Disk where you think it needs to go.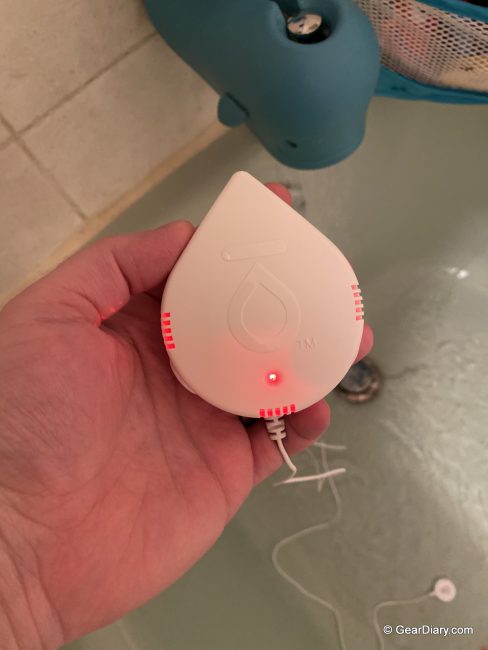 What's nice about the Smart Water Detector is it's simple to install and setup, while giving the user greater peace of mind. The beauty of the integration with the Smart Water Shutoff is the fact that, without user intervention, if the Detector notices a leak from your hot water heater or washer, it can turn off your water supply saving you hundreds of dollars in repairs or even an insurance claim.
The Smart Water Detector comes with a 2-year lithium battery, giving you peace of mind without having to think about it. It'll also alert you when it has a low battery, allowing you time to purchase a new battery without having any downtime where you're not protected. You can also purchase several Smart Water Detectors and install them around your home, in each of the bathrooms, under the kitchen sink, laundry room, etc. The Flo by Moen app can monitor a number of Smart Water Detectors at the same time, making it easy to blanket your home in protection.
I tested the Smart Water Detector by dipping the Remote Sensing Disc into the running bathtub and found that the Detector blinked red, sounded a loud alert sound, and send an alert to my mobile phone through the Flo by Moen app. Since I had the option selected, it also automatically shut off our water supply, the bath stopped running (stopping the "leak"), thus demonstrating the value of the system.
Flo by Moen's Smart Water Detector retails for $49.99 each or you can get a 3-pack for $129.99 with free shipping. The fact that they can work with or without the Smart Water Shutoff makes them valuable to just about any home with indoor plumbing. You can get yours at MeetFlo.com.
Source: Manufacturer supplied review sample
What I Like: Easy to install and setup; Flo by Moen app is great to use; Automatic, customizable alerts protect you from damage
What Needs Improvement: Nothing I could find
Want More? Follow Us Here!