The Ankarsrum Assistent Original is a beautiful machine that's ready to help complete many kitchen tasks. Best known as a high-end mixer that's perfect for mixing and kneading bread dough, it can also mix cake batter, churn butter, mix cookie dough, whip cream, and much more all without any additional accessories. This powerful mixer with an excellent warranty may be the last one you ever need to buy.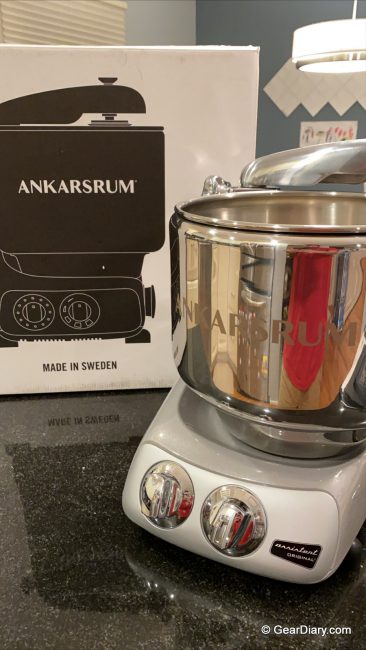 I was first introduced to the Ankarsrum Assistent (yes "Assistent" is spelled correctly, it's Swedish) while researching my review of the Challenger Bread Pan. Challenger Breadware only carries the best equipment for home bread baking, so I was instantly intrigued. The Ankarsrum, or "Ank" as it's affectionately referred to by its users, is made out of chrome and steel, and it is built to last. The 600-watt motor is strong enough to mix up to 5kg (or 11 pounds!) of dough in the 7-liter stainless steel bowl.
The Ank comes with a 7L steel bowl as well as a 3.5L clear plastic bowl. The large stainless bowl is to be used for bread doughs while the smaller plastic bowl is to be used for cake batter, cookie dough, whisking meringue, making icing, etc. With the stainless steel bowl, you can use the included dough hook, roller, scraper, and cover. With the plastic bowl, you will use the included double beaters. You get two sets of whisks, one set of balloon whisks, and one set of pastry whisks.
The Ankarsrum Assistent is uniquely engineered so that the motor is located at the bottom of the unit, and the bowl itself spins. This design provides for a completely open top, which makes it easy to add flour, water, etc. as the mixer is spinning. The open top also allows you to see and feel the dough much easier than competitors. There is a movable steel arm that spans over the bowl, which holds the roller, while the scraper attaches to the side of the bowl and remains stationary while the bowl spins. This design simultaneously rolls and kneads the dough, making it similar to kneading with human hands. You also use a dough hook instead of the roller arm, which leads to a little more tearing while kneading, but many people use it with great success.
The setup with the plastic bowl is pretty nifty. The bowl has a hole in the middle that allows a central shaft to connect to the motor assembly. The double beater assembly then connects to the top of the shaft and spins using the internal gears. It's a cool setup that works well but requires a lot of small parts and pieces to use.
The Ank is controlled using two knobs. The left knob is the on/off/timer. You turn the knob one click to turn it on, and if you keep going past "on," you can select a timer setting where the Ank will turn off automatically after up to 12 minutes. The speed is controlled using the right knob, and it's completely adjustable, unlike most mixers that have specific speed settings. You can take the Ank from 45 to 130 rpm and adjust it anywhere in between. Surprisingly, it's a fairly quiet motor, which is nice considering I share the house with my wife and kids, and they'd get annoyed with a loud motor.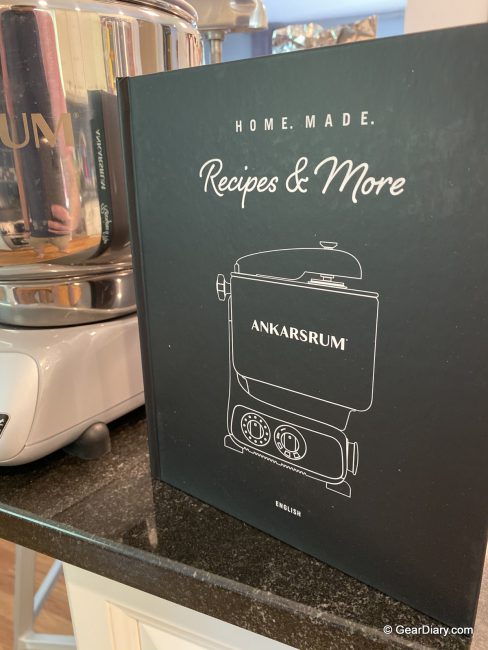 Ankarsrum kindly provides a nicely designed, hardcover recipe book with each Assistent. Recipes include everything from hamburger buns, focaccia, and standard bread loaves, to desserts, cookies, pasta, smoothies, milkshakes, and more. The recipe book is surprisingly well-designed and photographed, and the recipes are specifically formulated for use in the Ank.
One more advantage that Ankarsrum carries over its competitors is it's a serious warranty, boasting a SEVEN-year warranty on the motor base and a one year warranty on accessories. The warranty only applies to the original purchaser, however, so be forewarned in the secondary market. This is a massive advantage over comparable units that carry a mere two-year warranty.
So let's talk about my experience testing the Ankarsrum Assistent. Keep in mind that I've been using a KitchenAid Artisan series, tilt-head mixer for years, so that's my basis for comparison. While I feel like a KitchenAid Pro Series bowl-lift stand mixer is a more apt comparison spec-wise, I haven't used one myself. There's certainly a learning curve when going from a KA mixer to the Ankarsrum Assistent, and it took some time for me to feel confident, but the huge bowl and powerful motor were appreciated early and often.
With the Ank, you're supposed to put in all of the liquid ingredients first, then add your flour slowly until your dough comes together. I've watched a lot of videos recommending that the Ank allows you to use slightly less flour than a recipe calls for; however, I'm a bit anal when it comes to recipes, especially when baking, so I typically used the recommended amount of flour. I used the roller the most when mixing my bread dough since that's supposed to be the closest way to mimic hand kneading. When mixing the water, oil, yeast, etc., I pushed the arm toward the center and back to help the ingredients mingle, then I added the flour slowly until it all combined into a nice dough. The experience of being able to dump all the ingredients in while it was spinning, without having to lower the bowl, tilt the head back, or try to sneak in between the head and the bowl, was fantastic.
Once the dough was formed, I reduced the speed to allow it to knead gently. The dough rolls around inside the bowl, getting lightly squeezed between the roller and the side of the bowl, then kicked back by the scraper. It's an efficient way to keep the dough moving while gently kneading it. The perimeter of the roller itself is scalloped, mimicking the shape of human fingers. As mentioned, there's a learning curve when using the Ank, and I wasn't always sure that my dough was properly kneaded, however, my final products always came out great.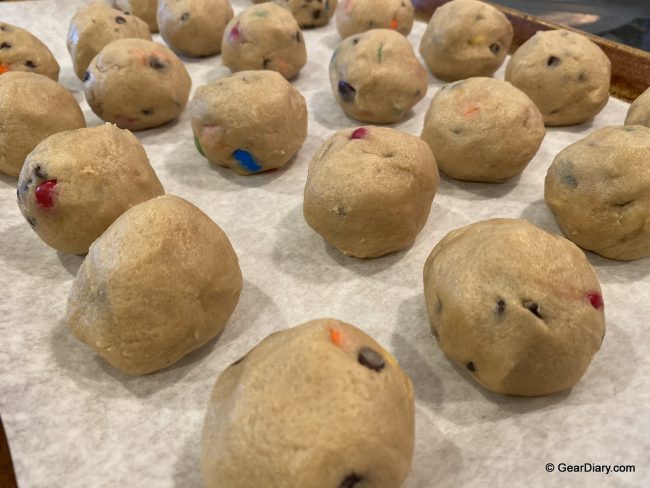 We made a few different types of bread in the stainless bowl, including pizza dough (my favorite) a few times, challah, and sourdough bagels. The process, while different than what I'm used to, was reasonably easy to adapt to. I found that the combination of the roller and scraper did seem like human hands were kneading the dough, and it definitely felt more gentle than I'm used to with a KA dough hook. The dough was adequately kneaded to develop the gluten in the bread, though it took slightly longer than I expected, approximately 10 minutes or so. Each turned out as expected: the challah was light and soft, the bagels were chewy on the inside and crisp on the outside, while the pizza dough had great oven spring and was crisp on the outside and soft on the inside.
We also made M&M cookies using the plastic bowl and double beaters. We used the balloon (cookie) whisks to cream the room temperature butter before adding the sugar. The cookies came out great, as they were well mixed using the plastic bowl and double beaters. It was actually mesmerizing watching the double beaters work. Butter is a point worth mentioning. The Ankarsrum doesn't have a solid "paddle" beater like KitchenAid mixers do, so it doesn't have the ability to cream butter from the fridge. Ankarsrum makes it very clear that all butter must be room temperature before creaming. This may be an inconvenience to some, as it requires some forethought, but it's not the end of the world.
After a few weeks of testing and many uses, I can confidently say that the Ankarsrum Assistent Original is an excellent mixer for those home bakers who are looking to level-up their kitchen equipment. The 7L bowl and 600W motor make it especially great if you're going to be making a lot of dough at one time. There's absolutely a learning curve, so you'll want to go into your purchase expecting some time getting used to your device, but once you dedicate yourself to it, you'll be making great food for years and years to come. The Ank is built like a tank, and it has the 7-year warranty to back it up. I've seen posts on the Ankarsrum Facebook group from people showing off their 20+-year-old mixers (previously called Electrolux Assistent, DLX, Verona Magic Mill).
The Ankarsrum Assistent is beautifully designed, from both an engineering and aesthetic perspective. It's available in 12 colors, enough to coordinate with any kitchen while it's stainless steel bowl and curved lines would look good sitting on your counter, assuming you have the counter space. It has a removable power cord, so you can store it away easier, as well as a bowl cover that doubles as an accessory bowl while the Assistent is in use. They thought of everything.
Ankarsrum also has several accessories available to extend the uses for your Assistent. These nifty accessories include a spaghetti roller/cutter, lasagna sheet roller, grain/spice/coffee mill, slicer/shredder, meat grinder, juicer, and even a blender. There so many accessories I'm not going to name them all here. You can check out the full list online.
As I said, if you're looking for an upgrade to your kitchen gear, check out the Ankarsrum Assistent Original, expect a learning curve, but your patience will be rewarded with delicious baked goods for years to come. Stay tuned for an update later this summer, where I'll be checking out some of Ankarsrum's most popular accessories as well as a review video, showing a lot of footage from my testing.
The Ankarsrum Assistent Original Stand Mixer sells for $699, and you can purchase it directly from the manufacturer.
Source: Manufacturer supplied review sample
What I Like: Ingeniously engineered; Strong motor; Large bowl; Kneads similar to human hands; Super-versatile, especially when taking accessories into account; Comes in a ton of different colors; Outstanding warranty protection; Timeless retro design
What Needs Improvement: There's a learning curve; It's a bit large, so it may be hard to find storage for it in a small kitchen
Want More? Follow Us Here!