Where did the summer go? Hopefully, yours was full of good times with the kids and grands, and you were able to fit in a getaway with family and friends, but now it's time to start thinking about the upcoming school year. Whether that means the kids in your life are attending elementary, middle, or high school or heading to college, our 2023 Back to School Gift Guide has got you covered. We've also got a great back to school giveaway running, so be sure to enter at the end!
As always, we've listed retail prices on each item, so if you see something that interests you, it's always a good idea to click the link to see if any current sales are running. And be sure to check back often, as we'll be adding more items as they come in!
This slideshow requires JavaScript.
Decorating a new dorm room is a rite of passage for many new college students, but creating an original space that reflects the student's personality can be a challenge when dealing with cookie-cutter suite layouts, and they aren't allowed to use nails or drill holes. The $129.99 Govee Curtain Lights are a great way to make a small space their own.
Each set of curtain lights is 5′ wide and 6′ long; they contain 520 teardrop-shaped light beads dispersed throughout the 20 hanging strands, which can be programmed through the Govee app to show colors, pre-made patterns; personalized patterns can even be created, and the lights can be voice-controlled through Amazon Alexa, Google Home, or remote-controlled through the app.
The Govee Curtain Lights are IP65 rated, so they can even be used outdoors if your student lives in an apartment with a patio and wants to spruce up their outdoor space.
For installation, they'll have a choice of using the included G4 curtain hooks with a compatible curtain rod, using the G4 hooks with VHB gum adhesive tape, or using the hooks with seamless nails on a wall. Depending on their space, there are multiple ways to install them that won't get anyone in trouble with an RA.
With the Govee Curtain Lights, they can create a soothing scene for studying, have holiday-themed lights, or enjoy the light show when they're relaxing to music.
This slideshow requires JavaScript.
If your college student is moving away from home for the first time and adjusting to the social nature of dorm life, the $50.85 Master Lock Sentry 1200 Fireproof Safe will help with the unique set of challenges and worries that on-campus living can present.
The Sentry 1200 Fireproof Safe is an affordable and convenient security solution that safeguards precious valuables and electronics from theft attempts and fire damage, keeping items safe and sound.
The safe has passed a UL 30-minute fire retardant test, a UL rapid heating explosion test, and it has ETL digital media fireproof performance test certification.
It has a built-in privacy key lock for simplified usage, so college students can leave their dorm rooms knowing their items are secure. There's even a convenient carrying handle so the chest can be easily moved from room to room, so they can seamlessly pack up and store their valuables at the end of each school year.
This slideshow requires JavaScript.
As your favorite student gears up for another school year, having the right tools at their disposal can make all the difference. With up to a 4TB storage capacity, the Crucial X6 Portable SSD will ensure they always have space for their important files, projects, photos, and videos.
There's no need for compromise on what to keep and what to delete – they can store everything in one place. This portable SSD boasts a sleek and compact form factor at just 2.72″ long by 2.52″ wide by 0.43″ thick, and it weighs just over an ounce, so it can be easily slipped into their backpack or pocket.
The Crucial X6 offers blazing-fast data transfers (up to 800MB per second), so they can move their files quickly and efficiently, saving valuable time for their studies and activities.
More than just offering storage and speed, the Crucial X6 is designed to withstand the rigors of the student's lifestyle. Its rugged and durable design is ideal for on-the-go usage, offering peace of mind knowing their data is safe from accidental bumps and drops.
Whether they're a creative artist, a tech-savvy student, or a research enthusiast, the Crucial X6 will work with a wide range of devices, including laptops, tablets, and smartphones, to ensure seamless integration with their favorite mobile devices.
The Crucial X6 is available in 500GB for $69.95, 1TB for $79.99, 2TB for $139.99, and 4TB for $279.99.
This slideshow requires JavaScript.
If your child is attending a school where they'll need to provide their own lock for their school locker, or gym locker, or if they'll need one for a locker during other extra-curricular activities, the $10.64 Master Lock 1500D Standard Dial Combination Padlock is an affordable and secure option.
While many schools still provide lockers for students to store their belongings in during the school day, using the Master Lock 1500D Standard Dial Combination Padlock is a great way to add an extra layer of security, as it will allow them to ensure that their personal items and school supplies are protected from theft or tampering.
Made for indoor use, the Master Lock 1500D features a durable metal body that's almost 2″ wide with a stainless steel cover and a hardened steel shackle. Once students get the hang of working the 3-digit combination, they'll appreciate the keyless convenience.
This slideshow requires JavaScript.
If your student likes to enjoy hot or cold drinks on the go, they'll appreciate the Fellow Carter Move Mug. Made to amplify the taste, touch, and smell experience, the Carter Move Mug has a true-taste ceramic coating over a double-walled insulated stainless steel, so their drink of choice will stay free of odors, oils, and other "off" notes.
On the top of the mug, there's a removable 270° twist lock lid, so they can beep the mug in their backpack without worrying about spills.
The lip at the top of the Carter Move Mug is tapered so it will sit comfortably on their mouth, while the removable snap-in splash guard allows for mess-free drinking — whether it's keeping cocoa from surging into their mouth or ice from leaping onto their face — when the cup is tilted back for drinking.
Thanks to the double-walled, insulated design, the Carter Move Mug will keep hot drinks hot for up to 12 hours and keep cold drinks cold for up to 24 hours.
The Fellow Carter Move Mug is available in multiple color choices; sizes offered include 8 ounces for $27.50, 12 ounces for $30, and 16 ounces for $35.
If you'd like to add a personalized touch, for an additional $10, the mugs can be engraved with your student's name in multiple fonts and sizes, either horizontally or vertically, and you can specify from a choice of three placements on the mug.
This slideshow requires JavaScript.
With the recent wildfires and resulting terrible air quality across the U.S., it's never been more important to ensure that the spaces where your student lives, sleeps, and studies have clean and safe air.
With the $699 EnviroKlenz Mobile Air System, a cutting-edge air purification solution designed to tackle airborne pollutants and create fresh air for everyone, they'll have just that.
Made to fit almost anywhere, the 19″ tall by 15″ wide by 15? deep air purifier is easy to move around as needed; it has a flat top, so it can even serve as a side table near a bed or sofa.
The EnviroKlenz Mobile Air System utilizes advanced, hospital-grade technology to eliminate a wide range of pollutants that can impact indoor air quality. From dust and allergens to volatile organic compounds (VOCs) and harmful pathogens, this air purifier ensures that living spaces remain a sanctuary.
It has simple, intuitive controls and operates quietly to ensure minimal disruptions; students can concentrate on their studies, watch television, or sleep undisturbed.
The EnviroKlenz Mobile Air System has four speeds, 85 CFM, 150 CFM, 200 CFM, and 250 CFM. The company says that ideally, you'll want to achieve 3-5 air exchanges per hour in the area where the system is being used, which equates to an area of around 1000 square feet or less, so on the highest setting.
That means that this model will be able to keep air clean in any size dorm room or even a medium-sized apartment.
Using a powerful combination of HEPA filtration and EnviroKlenz's patented Earth Mineral Technology, the EnviroKlenz Mobile Air System captures and neutralizes even the tiniest particles of viruses, VOCs, chemical odors, and fragrances, leaving behind nothing but crisp, clean air.
The HEPA filter will last approximately two years, and the EnviroKlenz Air Cartridge will typically last six months; you can sign up for their filter replacement subscription service for each filter to ensure that the air purification is always performing as expected.
I have this particular model in my living room, and one of the things I noticed soon after it had been running for a few days was the typical West Texas dust that I'd typically see floating in the air as the morning sun rises through our east-facing windows has vanished! This still blows my mind, but it also speaks to the performance and power of the EnviroKlenz Mobile Air System.
We should all be concerned about air quality these days, but the EnviroKlenz Mobile Air System provides peace of mind that the air your student is breathing is as pure as possible.
This slideshow requires JavaScript.
If you're looking for a pair of jeans for a student of any age that will hold up to even the roughest wear, check out the Carhartt Rugged Flex Pants.
Available in five colors and in waist sizes from 28″ to 54″ and lengths from 28″ to 36″, these jeans start at just $59.99.
Not only do Carhartt jeans have the legacy brand aesthetic that's so popular on campuses everywhere with a straight-legged style and a relaxed fit that offers a bit of extra room in the seat and thigh, but they are also built to last with durable, abrasion-resistant denim that has a bit of stretch for easy movement;
Made with 85% 12-ounce cotton, 14% polyester, and 1% spandex denim, they're easy-care, so even students new to doing their own laundry can handle the instructions.
All they need is to be machine washed on the cold, gentle cycle with a mild detergent and tumbled dry on low, and they'll look good as new without any wrinkles.
This slideshow requires JavaScript.
Older students moving into their first apartment will find the $199.99 Eureka NEW400 Cordless Wet Dry Vacuum All-in-One Mop a thoughtful gift.
This 2-in-1 vacuum and mop will make clean-ups a breeze; not only does it suction up dirt and debris on carpets and hard floors, it can also clean grime and messy spills off hardwood flooring.
The flexible brush head, advanced swivel steering, and self-propulsion make it easy to maneuver, so they can change direction quickly and get under sofas and beds.
The Eureka NEW400 is cordless, with a battery that will last for 20 to 30 minutes of continuous cleaning — more than enough time to cover a small home or large apartment.
Unlike the usual double-dip routine that happens when using a traditional mop, the NEW400 has a 600-milliliter capacity water reservoir, and its two-tank system means that they'll always be cleaning their floors with fresh water, while the dirty water and debris are collected in a separate tank.
It has a 120W motor and a >90% water recovery rate, so they won't have to worry about water stains left on the floor.
A fingertip control makes it easy to switch between cleaning hard floors and carpets, and they'll be able to control their cleaning with an on-demand solution trigger; the LED status display will let them know when it's time to recharge the Eureka NEW400, empty the tank, and more.
The Eureka NEW400 is quiet, too; at less than 80 decibels, they won't get complaints from neighbors or other roommates when there's a mess to clean.
When they're done cleaning, they can simply put the NEW400 back into its rack, then press and hold the button for 3 seconds to start a self-cleaning cycle so the 2-in-1 vacuum and mop will be charged and ready the next time it's needed.
This slideshow requires JavaScript.
Whether you're a student commuting to school or a parent driving the kids, the $199.99 Nextbase 322GW Dash Cam is an excellent choice to ensure peace of mind on the road.
The Nextbase 322GW has safety features that prioritize your passengers and your well-being. With its intelligent Emergency SOS function, the dash cam can automatically call for help in case of an accident, providing crucial assistance when you need it most.
You'll be able to capture every moment in Full HD 1080p resolution, and the 140º wide-angle lens will ensure a comprehensive view of the road ahead, so if there are any incidents, they'll be recorded with precise detail, which can be particularly useful in case of disputes or when studying driving habits for improvement.
If you're worried about student parking on campus or in busy lots, the 322GW's Intelligent Parking Mode will keep an eye on the vehicle even when the driver is away; it will automatically record any bumps, scrapes, or attempted thefts, providing valuable evidence if something goes wrong.
The built-in Bluetooth and Wi-Fi connectivity means that you (or your kid) can connect a smartphone to the dash cam to quickly access and share videos or directly upload them to social media platforms for a fun way to document a gorgeous drive or interesting thing spotted.
The Nextbase 322GW has a user-friendly interface and a straightforward magnetic mount, so installation is a breeze. And finally, if you also want the extra protection of being able to capture video of what's happening behind the car, the Nextbase 322GW works perfectly with the $69.99 Nextbase Rear Window Cam.
Add your own microSD card to capture film, and you'll never run out of storage space because the 322GW automatically overwrites old footage with new recordings for continuous and uninterrupted protection throughout the academic year.
When school requires a daily commute where anything can happen, the Nextbase 322GW Dash Cam will give you peace of mind.
This slideshow requires JavaScript.
Help your favorite student step into the future of education with the $1999.99 Lenovo Yoga Book 9i, an innovative 2-in-1 laptop designed to enhance productivity, creativity, and learning like never before.
Whether you're a student, educator, or a lifelong learner, the Yoga Book 9i can help you excel in your academic journey. With it, you can ditch traditional textbooks and embrace everything digital.
With its vibrant and responsive 13.3″ touchscreen display, the Yoga Book 9i allows you to take notes, annotate PDFs, and interact with educational apps effortlessly. The Yoga Book 9i unlocks an entirely new level of engagement because content can be managed in a more immersive and interactive way.
The Yoga Book 9i features a versatile E-Ink keyboard that instantly transforms into a notepad or sketchpad. You can use it to take handwritten notes during lectures, sketch diagrams, or jot down ideas just like you would on paper. It's perfect for those who prefer the tactile feel of writing while enjoying the benefits of digital organization.
Whether it's running multiple applications simultaneously or tackling resource-intensive projects, this laptop's robust processing power and ample memory ensure a seamless experience, allowing you to focus on learning and not on technical glitches.
With this laptop, you can use your artistic talents to create stunning digital art or sketch out ideas for your projects. The pressure-sensitive pen allows for natural and accurate strokes, making it a dream tool for graphic designers, art students, and anyone who loves to express themselves visually.
The Yoga Book 9i comes with 16GB RAM and 512GB user memory, and its versatile USB-C and HDMI ports ensure seamless connectivity to various devices and peripherals, enhancing your ability to collaborate and share your work effortlessly.
This slideshow requires JavaScript.
Send the kids back to school with some of the coolest and most functional products around from Heart Blaster Kids. From backpacks to reusable water bottles to lip balms and more, Heart Blaster Kids has a great selection of back-to-school necessities.
Camo never goes out of style, and with the $48 Heart Blaster Camo Backpack and the coordinating $14.99 Camo Pencil Pouch, students will have everything they need to stay organized and stylish for the 2023-24 school year.
The Camo Backpack is spacious and water-resistant, and it has adjustable straps, mesh pockets, and a suede base; plus, it's got bright red embroidered accents that really pop!
The matching Camo Pencil Pouch is also water-resistant; in its flap, there are elastic slots for nine pens or pencils with a zippered pouch at the bottom for small items like erasers and lunch money. The whole thing rolls into a convenient bundle held tight with a black elastic strap. The bright red embroidered Heart Blaster logo looks great here, as well!
Rather than buy disposable water bottles that are bad for the environment, send the kids to school with a fashionable and functional $28 Heart Blaster Bamboo Reusable Water Bottle. This double-walled, 16.5-ounce insulated bottle is stainless on the interior, and the exterior is wrapped in gorgeous bamboo with an engraved side and cap.
Here's the thing, though — you may want to steal this bottle for yourself (or get yourself one, too) because, on the inside, there's a removable two-piece stainless insert that not only can be used to hold fruits or loose tea for infused drinking, it double-functions as a splash guard, so even the biggest sips won't splash onto the drinker's chin. It's a really clever design that everyone will appreciate! Just remember not to put the bamboo-wrapped bottle in the dishwasher; it should only be hand-washed.
Looking for an eco-friendly, organic lip balm that doesn't come in a plastic tube? Well then, you'll love Heart Blaster's Lip Balms and Tints! Their tubes are 100% biodegradable, and the 3-ounce lip balms use proprietary plant-based oil scents, like Lemongrass, Chamomile, and Vanilla, for $12 each.
Teens will love Heart Blaster's $15 3-ounce LUX Lip Tints, which are also organic and come in 100% biodegradable containers; these aren't scented, and there are three naturally-tinted color choices.
This slideshow requires JavaScript.
If your kid is heading back to college and settling into their first apartment without a dorm meal plan, you can treat them to a Hungryroot subscription that will not only keep them well-fed, it will help them make healthy eating easy, personable, and sustainable.
Hungryroot asks you to take a simple quiz that tells them about how your kid eats and their goals, then they'll recommend the food that will work best for them.
Each Hungryroot box includes fresh-cut produce, premium proteins, and healthy snacks and sweets; best of all, the meals take about ten minutes to put together and serve.
Hungryroot also provides quick recipes and curated grocery options that are delivered right to their doorstep; your kid will be set with healthy snacks and meals, and you won't have to worry about them going hungry or relying on fast food when they are too "tired to cook."
I've given Hungryroot a try, and I was impressed at how everything arrived fresh and in perfect condition; the recipe suggestions were delicious, and the healthier snacks were very tasty!
Hungryroot starts at $65 per delivery; you can skip a week or cancel anytime.
This slideshow requires JavaScript.
If your student is ready to move on from manual brushing, they'll appreciate the Bitvae D2 Electric Toothbrush; it's a smart toothbrush that packs a number of features for a surprisingly low price.
The Bitvae D2 is ADA accepted, has five different cleaning modes, a timer so they can monitor how long they are brushing, and is IPX7 rated, so it is fully waterproof.
Studies show that electric toothbrushes are 7 times more effective at cleaning than manual brushing, thanks to bristles that rapidly vibrate. Combining the vibrations with W-shaped bristles that can get between teeth and rounded ends that remove plaque without damaging the gums is the key for an easy and complete cleaning regimen. 
Perhaps the best feature is the inclusion of eight extra brush heads, which translates to clean teeth for an entire year for less than $32. It's available in a wide range of colors, so you can likely find their favorite color!
This slideshow requires JavaScript.
As the new school year approaches, you can equip your child with the perfect companion for their educational journey – the $119.99 Puro Labs BT2200 Plus Volume Limited Headphones! Designed with the utmost care for young learners, these headphones prioritize their safety, comfort, and learning experience.
With Puro Sound Limiting Technology, you can rest assured that your child's ears will be protected from excessive volume levels.
The headphones are designed to maintain a volume threshold that keeps the sound at a safe level for young listeners, ensuring their auditory health isn't compromised.
The BT2200 Plus headphone delivers exceptional audio quality, so your child will hear every word, note, or sound effect with pristine clarity. Enhancing their learning experience, these headphones bring lessons to life and spark curiosity in the world around them.
Comfort is crucial for extended wear, especially during longer study sessions; to that end, the BT2200 Plus is lightweight and has plush ear cups and an adjustable headband for a snug and gentle fit.
Kids can be hard on their gear, so the BT2200 Plus is crafted with robust materials to ensure durability, from the rough-and-tumble of backpacks to accidental drops.
The BT2200 Plus offers Bluetooth connectivity, so your child can move freely without being restricted by cords.
Whether they're engaging in interactive learning activities, joining virtual classrooms, or dancing to their favorite music during a break, these headphones will provide seamless connectivity for a hassle-free experience.
Available in Black, Blue, Green, Pink, Purple, and Teal, the BT2200 Plus headphones allow your child to express their style. Let them pick their favorite shade and start the school year confidently and excitedly!
This slideshow requires JavaScript.
It's almost time to head back to campus, and Moso Natural products are the perfect solution for controlling odors in tight spaces. Instead of covering up odors with artificial fragrances, Moso products actually absorb odors and eliminate them for good!
Moso Air Purifying Bags are great options for almost every scenario, and with a little routine rejuvenation, Moso Bags can last up to 2 years! All you have to do is place them outside in the sun once a month for one hour. After they've been used as an air purifier for two years, the bag can be opened, and the Moso charcoal inside the bag — which is chemical-free, fragrance-free, and non-toxic — can be sprinkled into a garden to promote plant growth.
These attractive, gray woven cloth bags won't look out of place wherever they're put, and there's no need for batteries or wires; these extremely effective air purifiers work like a magnet to continuously capture odors and harmful pollutants out of the air without giving off a scent.
Amazingly enough, in damp, musty environments, Moso Bags will also absorb excess moisture and regulate humidity.
Check out their $19.95 500g Moso Bag, which on its own can cover 250 square feet, or the $12.95 300 gram Moso Bag, which works effectively in closets or bathrooms up to 90 square feet. If your student is an athlete, they'll appreciate the $10.95 set of two Mini Air Purifying Bags, which can be used in their shoes, sports gear, backpacks, luggage, and drawers. There are even Moso Bags specifically meant for use in the refrigerator and in cars.
If students have to share a restroom, they'll appreciate the $11.95 Moso Natural Scent-Free Bathroom Spray, which is a fast, effective, and scent-free solution for discreetly eliminating unpleasant bathroom odors. The Moso Bathroom Spray uses probiotics that actively target and destroy odor-causing molecules without the use of an overbearing fragrance.
Living with other people can introduce or expose a lot of unwelcome odors, but Moso products can help keep them all under control, naturally!
This slideshow requires JavaScript.
If your kid is headed to college, you can send them with everything they'll need to set up the perfect study space with products from Smartish. Here are some of our favorites:
With the $29.99 Smartish Charge Shack, students will have a small, portable 32W dual-port charger that includes ports for USB-A (12W) and USB-C (20W) charging cables. If they need something a bit more powerful, there's also a Charge Shack that offers USB-A (18W) and USB-C (65W) ports.
Perfect for travel or use in the dorm, the Charge Shack is made for phones and small electronic stuff, and it has built-in temperature control, current regulation, and high-voltage protection. The outlet prongs fold into the Charge Shack so that it can be in their backpack without worry.
The $29.99 Smartish Charge Island is a universal Qi charger that can deliver up to 15W of power to iPhone and Android devices. Compatible with most phone cases, it offers an easy, worry-free place for them to set their phone for wireless charging.
It includes a USB-A to USB-C cable, so they won't have to sacrifice one of their charging cables to power it. It comes in four different colors and patterns to fit their personality.
The $39.99 Smartish Bigger Cable Wrangler is a compact 5″ long by 3″ wide organizational tool that will magnetically hold the tips of the cables they regularly use on their desk or nightstand; the magnets in the Cable Wrangler catch the cables' ends when they are laid on it, keeping the cables neat and handy instead of dangling on the floor.
Not all cables have a nice metal end on their tip that will work with the Cable Wrangler's powerful magnets, so Smartish also includes four Cable Collars with the Bigger Cable Wrangler so that all cables will be compatible. The Cable Wrangler is available in gray, beige, teal, or pink.
Speaking of cables, can they ever have enough? We all know that the answer is "no," so you might want to consider an assortment of the Crown Jewel Charging Cables, which are also available in gray, beige, teal, and pink.
Available in four types, including USB-C to USB-C ($14.99), Universal — with USB-A on one end and a convertible tip that allows it to be a microUSB, Lighting, or USB-C charger ($19.99), USB-A to Lightning ($14.99), and USB-C to Lightning ($14.99).
Each 6′ long, reinforced cable is fabric-wrapped, and it has a tip that plays nicely with the Smartish Bigger Cable Wrangler mentioned above.
When they are out and about, students will appreciate hands-free use of their smartphone with the Smartish Case Clinger, which is available with a champagne gold metal neck lanyard ($29.99), a braided leather and metal neck lanyard in silver and black, gold and black, or rose gold and pink ($24.99), a black rope neck lanyard ($14.99), a glossy black vegan leather buckle strap lanyard with a built-in lip gloss holder ($19.99), and a black vegan leather wristlet ($9.99).
The beauty of the Case Clinger is that it is compatible with any smartphone in a full-frame phone case and the attachment loop swings out of the way for unobstructed wired charging.
They'll just slip the loop through the charging port hole on their case to install it and then attach the clip to the neck or wrist lanyard. It's so simple to use, and they'll love that they don't have to constantly keep their phone in hand.
This slideshow requires JavaScript.
When the kids return to school, bug bites and stings will still be an issue. You can say goodbye to the discomfort and irritation caused by pesky bug bites with the $39.95 heat it, a smartphone-connected gadget that brings fast and effective itching relief after mosquito and horsefly bites or bee and wasp stings.
To treat a bug with heat it, you simply plug heat it into the charging port on your Android (USB-C) or iPhone (Lightning), and the heat it app will open. After a short heating period, you'll place the contact surface of the heat it on the insect bite or sting.
You can adjust the settings through the app, and depending on how it's set, the treatment can take 4 to 9 seconds, reaching a temperature of between 117 and 126°F, and the app will let you know as soon as the treatment has been completed.
The way it works is that the skin's nerves react to this hyperthermia; the brief pain from the applied heat causes the skin's itching signal to no longer properly transmit, which causes the need to scratch to disappear.
Heat it is compact, portable, and easy to use; you can attach it to your keyring or wear it hanging from the included lanyard, so it's always handy.
This slideshow requires JavaScript.
Get ready to breeze through your mornings and look effortlessly fabulous as you return to school with the $149.99 Laifen Swift SE Hairdryer. Designed to be the ultimate hair companion for students, this sleek and powerful hairdryer will become a must-have addition to daily routines.
With its advanced motor technology, the Laifen Swift SE delivers swift and efficient drying, reducing styling time and allowing students to focus on acing those early morning classes.
If unruly frizz is an issue for your particular student, they can say goodbye to it, thanks to the Swift LE's ionic technology, which helps to seal moisture into hair, leaving it smooth, shiny, and ready to conquer the day.
Whether they want a gentle breeze or a powerful gust, the 1400W Swift SE offers multiple heat and speed settings to suit every hair type and styling preference; they can lock in their hairstyle with the cool shot button, ensuring hair stays in place even during those hectic class changes and extracurricular activities.
Weighing in at just under a pound, this hairdryer is the perfect companion for on-the-go styling. Students can toss it into their backpacks or gym bag, and they'll be set to maintain their fabulous style throughout the school day.
Laifen has told us that they will be running a back to school special on the Swift SE hair dryer; it will be on sale for $126.99 from Aug.10 to Aug 31.
This slideshow requires JavaScript.
If your kids are at an age where you're considering getting them their first mobile phone because you'd prefer they have a reliable way of their own to reach you anytime, anywhere, it's totally understandable if you aren't quite sure whether it's too early to allow them to be exposed to all of the things that owning a smartphone can entail. Pinwheel can help with this.
The average age for kids getting their first smartphone is around 10. For all the convenience that comes with your child owning a smartphone, there are plenty of good reasons why you might be hesitant to get one, knowing that it will provide access to the internet, where your underage children will be exposed to a wide range of content, much of it unsuitable for their age or maturity level.
Cyberbullying, online harassment, a lack of privacy online, predators, and excessive screen time, are all factors you must weigh.
Implementing parental controls, monitoring apps and contacts, and gradually granting more privileges as the child demonstrates responsible behavior can help mitigate these concerns, which is why Pinwheel is such a great idea.
Pinwheel is a smartphone company that specifically caters to kids by offering age-appropriate features and functions along with robust parental control tools; they are focused on empowering parents to customize the settings on the smartphone to meet their child's needs, and parents can gradually unlock features as the child matures and learns to manage technology responsibly.
Pinwheel sells four smartphone models, including the new Pixel 7a, that come pre-installed with their special parental software, enabling parents to manage who their child talks to, when, where, and how they can use the phone, and which apps they can access.
These phones are designed to give children access to the features they want, such as texting and fun apps while implementing safety measures and parental monitoring.
Pinwheel provides an App Library, which includes over 900 popular apps carefully reviewed by Pinwheel experts; information to parents, enabling them to make informed decisions about which apps are suitable for their child.
They also offer a built-in parent management system through which parents can guide their kids toward healthy technology habits. Parents can access various tools and features to monitor and manage their child's smartphone usage in the Pinwheel Caregiver Portal.
Through the Pinwheel Caregiver Portal, which works on both mobile and desktop devices, parents can monitor their child's text messages and call history without directly handling the child's phone, which is aimed at preventing potential conflicts that can arise from parental monitoring.
Parents to control who can call or text their child's smartphone; only the contacts listed on the Contact Safelist can communicate with the child's device, providing an additional layer of protection against spam or stranger communication.
To foster healthy technology habits, parents can set up schedules for when apps and contacts are available for use and when they are restricted. For instance, you can schedule certain apps to be accessible during specific hours of the day or limit communication to certain times, like during school hours or overnight.
Kids will still be able to text, call, share photos (from approved contact lists), and play games, and parents will be able to communicate with them while also having a discreet way to ensure that they are safe and are learning good habits.
Unlike other "kid phones," Pinwheel allows parents to adjust settings later and unlock certain features and hundreds of apps as their child ages. It's the only kid phone that will enable you to choose your cell carrier, unlike Gabb, Bark, and Troomi, which limit you to the plan they sell.
Pinwheel's smartphones include the Google Pixel 7a (available next week for $499) and the Samsung Galaxy A14 ($329), which work with all major US carriers, including 5G. They also offer the BLU G91s ($199), which is incompatible with Verizon or 5G, and the Ulefone Armor X10 Pro Rugged Smartphone ($249), which is incompatible with Verizon or 5G.
You can simply purchase one of Pinwheel's phones, add your child's new phone to your existing carrier account, and pay $14.99 monthly ($13.75 if paid annually) for the Pinwheel service. If you need to add additional Pinwheel phones to the service, they'll run $4.99 monthly ($4.58 if paid annually).
Buying a new phone and paying for cellular service through your provider are likely things you were already considering doing, but buying one of the four models offered through Pinwheel and then spending an additional $165 for each year of Pinwheel service seems like a small price to pay to get peace of mind.
As if that wasn't enough, Pinwheel has just launched its new, free PinwheelGPT app, which comes with essential parental monitoring features. Built with children's safety in mind, PinwheelGPT generates only age-appropriate responses, while avoiding complex vocabulary and explicit content, links, or images.
Unlike other chat apps for kids, PinwheelGPT allows parents to remotely view their child's chats, including deleted messages, enabling them to understand their child's interests, offer guidance, and join the conversation when necessary.
With PinwheelGPT, the brand aims to foster a safe and responsible introduction to AI technology for children and by incorporating AI responsibly from an early age. The PinwheelGPT app is accessible on any device (including Pinwheel phones), through a mobile app, or via a mobile or desktop web browser.
This slideshow requires JavaScript.
If your student is returning to college with a laptop that only has a couple of USB-C ports, they'll appreciate the $59.99 OWC USB-C Travel Dock E, a compact and versatile dock that provides seamless productivity and convenience.
The OWC USB-C Travel Dock E has an impressive array of ports, including two USB-A ports, an HDMI port, an SD card reader, a Gigabit Ethernet port, and USB-C passthrough power. No matter their devices, this dock will enable them to connect to them all effortlessly, making it perfect for classroom and dorm room setups.
The Travel Dock E's portable design slips easily into backpacks or laptop bags, making it ideal for on-the-go students who need to switch between devices and presentations without missing a beat.
The HDMI port will enable them to connect their laptop to external displays, turning their tiny dorm room into an immersive workstation. Whether they're working on a group project, researching, or streaming content for a well-deserved study break, the OWC Travel Dock E will enhance their multimedia experience.
The USB-C passthrough power feature will enable them to charge your laptop and other USB devices simultaneously, ensuring they stay productive without interruptions.
With the SD card reader, transferring photos and videos from their camera will be a breeze. Plus, the high-speed Gigabit Ethernet ensures a stable and secure internet connection, which is vital for online research and attending virtual classes.
The OWC USB-C Travel Dock E is a portable, powerful, and reliable hub that will handle all their connectivity needs!
This slideshow requires JavaScript.
The Bitvae Cordless C2 Oral Irrigator will add a layer of dental and gum health to your student's routine, especially if they're known for being lax on flossing. It has a large, 10-ounce reservoir, which is enough for a full minute of cleaning, and it will run for up to 40 days on a single charge.
That, combined with the fact that it ships with a travel case, makes it great if they plan to study abroad or take frequent road trips. The C2 ships with five standard nozzles and a tongue-scraping nozzle.
With three different cleaning modes, this easy-to-use water flosser is a great deal at under $60. 
This slideshow requires JavaScript.
As the summer fun comes to an end and the school bells ring once more, moms and dads can ensure their back-to-school routine is stress-free and their sleep is as tranquil as a starry night with the $32.99 Sky Wellness CBD Sleep Gummies.
These CBD Sleep Gummies are expertly crafted with a lab-tested blend of CBDN and Melatonin to promote relaxation and foster a peaceful sleep, so you can wake up refreshed. CBN benefits have been studied for anti-insomnia effects and may be one of the strongest cannabinoids in promoting healthy sleep habits.
Sky Wellness CBD Sleep Gummies are not only effective in helping you sleep, but they're also a treat for your taste buds. With a burst of fruity goodness in every bite, incorporating these gummies into your nightly routine won't be a chore.
Just take one or two gummies before bedtime, and you'll be drifting off to dreamland in no time.
This slideshow requires JavaScript.
Three things we know about many college students are that they deal with significant stress and that their dorm rooms are often messy and rarely smell fresh.
We can't help with the mess, but the $69.95 Pure Ultimate Aromatherapy Diffuser Set with 10 Essential Oils can help with the stress while adding a lovely, subtle scent to their not-cleaned-often-enough dorm. 
The diffuser has a 300ml capacity and "uses state-of-the-art wave diffusion technology to atomize essential oils for ultimate wellness."
As you can tell by its name, it ships with ten essential oils, including lavender, eucalyptus, tea tree, orange, peppermint, lemongrass, jasmine, nutmeg, clove, and spearmint oils. Each oil is therapeutic grade and arrives in amber 10ml jars. (The amber color helps prevent sun degradation.)
The diffuser does more than atomize the essential oils, though. It also offers seven different ambient light modes and two intensity settings so students can pick the color and brightness that suits their mood.
For added peace of mind, the device has four timer settings and an auto-shutoff feature that kicks in when the water levels become too low. The wood grain design over BPA-free plastic looks nice, and the cool effect of the steam rising from the top of the diffuser will make it an instant hit.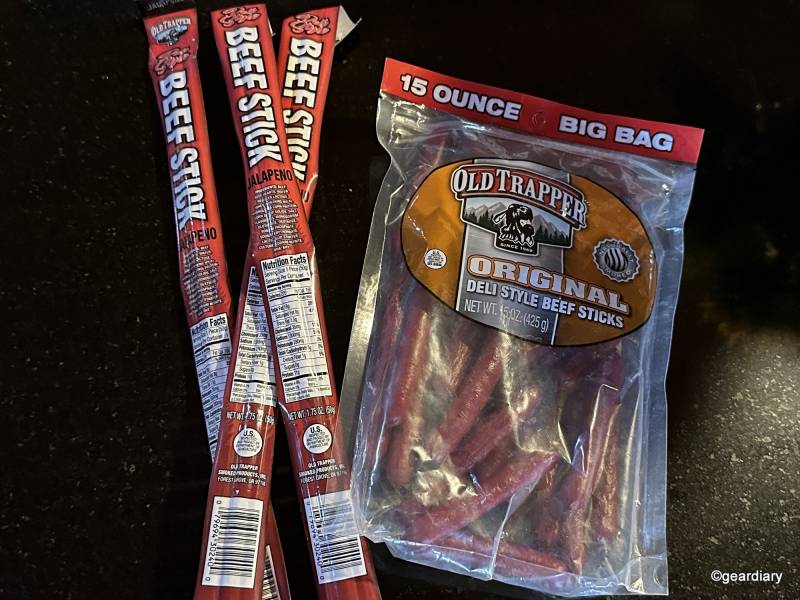 As you gear up for a new academic year, remember to pack the perfect snack that's sure to keep students energized and satisfied throughout the day.
Old Trapper Smoked Snacks offers a flavorful range of high-protein, low-carb options that are delicious and much healthier than a candy bar from the vending machine when their last meal has worn off.
Whether hitting the books in the classroom or staying active on the field, these premium smoked snacks are the ideal companion for any student.
Old Trapper Smoked Snacks are conveniently packaged, making them a hassle-free addition to students' backpacks or lunchboxes. It's a great on-the-go snack that won't slow you down.
This slideshow requires JavaScript.
If family leave is up, and Mom and Dad are stressing about putting their youngest in daycare for the first time, they're likely looking for the right products and accessories to send with their youngling to ensure that they get all of the comforts of home.
Chicco's Feeding and Soothing Products have got new parents covered; here are three items for every parent dealing whaving to drop their youngest ones off in someone else's care for possibly the first time.
The Chicco Duo Bottle is an award-winning, hybrid bottle made with two layers — on the inside, the purity and safety of glass; on the outside, the convenience and lightweight durability of plastic — so new parents can send them off with their baby without a worry!
The Chicco's Duo Bottle comes in 5-ounce and 9-ounce sizes, and they are available with pink or neutral accents.
A set of two of either size is $19.99, or you can opt to buy one of their $49 Duo Newborn Hybrid Baby Bottle gift sets, which includes two 5-ounce and two 9-ounce bottles Duo Bottles with Stage 1 Slow Flow Nipples, two Stage 2 Medium Flow Nipples, two PhysioForma 0-6m Silicone Orthodontic Pacifiers, and a sterilizing case.
There is also a $69.99 Duo Deluxe Hybrid Baby Bottle Gift Set available, which contains three 5-ounce and three 9-ounce Duo Bottles with Stage 1 Slow Flow Nipples, two Stage 2 Medium Flow Nipples, two PhysioForma 0-6m Silicone Orthodontic Pacifiers, and a sterilizing case.
If you're shopping for pacifiers, Chicco's features three different types of PhysioForma Orthodontic Pacifiers, each designed to actively support the baby's breathing by "positioning the tongue forward to maintain an open airway."
These include Light Orthodontic Pacifiers for ages 0 through 6 months, which are extra-light with a ventilated shield and come in a two-pack for $5.99; Silicone Orthodontic Pacifiers for ages 0 through 6 months, which feature one-piece construction and come in a pack of four for $11.99; and Silicone Mini Orthodontic Pacifiers for ages 0 through 2 months, which are 15% smaller and 10% lighter than their original Silicone Pacifiers, and come in a pack of two, staring at $6.99.
Chicco's also has four different Pocket Buddies, which are soothing stuffed animals that will provide babies with support during this time; they each have a pocket and strap to hold Chicco's pacifiers while keeping them clean and handy.
Pocket Buddies are available as rabbit, bear, fox, and elephant huggable stuffed toys, and the prices range from $9.99 to $11.99, depending on the style.
This slideshow requires JavaScript.
Dorm rooms have come a long way since I was in college, but they are still relatively drab and bland. That's where the $249.99 Twinkly Squares Smart LED Wall Panels can make a huge difference.
Available in Starter and Extension kits, each Squares wall panel has 64 app-controlled LEDs that can produce over 16 million colors. The starter pack includes one master panel to which up to 15 additional panels can be connected.
Then, using the free Twinkly App for iOS or Android, your student can create synchronized light art, including cool effects, fun animations, and pixel art. Creativity has endless possibilities, whether using the app's presets or creating customizable effects.
Best of all, they can create something new when they get bored of the current "light work" on the wall.
Check it out and grab some for your student … or yourself. You can also purchase an individual master tile or three packs of extension tiles.
This slideshow requires JavaScript.
The $209 BenQ treVolo U Desktop Dialogue Speaker is perfect for any student who wants a do-it-all speaker that offers exceptional sound for online learning, conference calls, podcasts, and audiobook enjoyment.
These days, online learning, remote work, and listening to podcasts and audiobooks have become a daily part of life, but many times the audio heard through a laptop or even a portable audio speaker can best be described as "meh."
Clear and intelligible audio is essential for effective learning and communication, and with that in mind, BenQ developed the treVolo U Desktop Dialogue Speaker to offer an immersive and enhanced audio experience for those seeking to maximize their digital engagements.
When taking online courses, it's crucial to have clear and intelligible audio to comprehend and engage effectively. Studying remotely can be challenging due to distractions and audio-related issues during important conference calls. Wearing headphones for prolonged periods can also lead to ear fatigue.
Built-in speakers, generic earphones, or music speakers often fail to deliver optimal vocal clarity and can lead to listening difficulties and distortion caused by background noises.
The BenQ treVolo U Desktop Dialogue Speaker addresses these challenges by rendering natural human voices with exceptional clarity while canceling out background noises.
This ensures every word, lecture, and discussion is accurately delivered for a seamless communication experience with improved comprehension.
The premium Electret Condenser Microphone (ECM) and parabolic design receptor ensure crystal-clear voice transmission, making treVolo U perfect for fatigue-free online learning. Its Bluetooth compatibility and compact size make it a versatile companion that will only take up a little space.
If your student likes to listen to audiobooks and podcasts, they've likely noticed that subpar audio devices can detract from the experience. The treVolo U's voice enhancement technology faithfully preserves the narrator's or participants' voices and delivers a natural and authentic sound.
Whether diving into classic literature or enjoying their favorite podcast, the treVolo U will provide a vivid and engaging audio experience that helps them connect to the audio.
If you have a student taking online classes, or if your work has become remote, the BenQ treVolo U Desktop Dialogue Speaker is a great solution!
This slideshow requires JavaScript.
Say goodbye to summer fun and hello to an incredible school year with the ultimate gaming companion – the $69.99 RiotPWR RP1950 Controller for iPhone!
When it's time to take a break from the books, the RP1950 Controller will whisk students away to immersive gaming worlds. With its precision controls and responsive buttons, they'll achieve victory in their favorite games while refreshing their mind for focused study sessions.
Instead of controlling their games on the iPhone's relatively tiny screen, they'll use the attached console controller designed for extended gameplay.
The controller is directly connected to their iPhone, so there are no Bluetooth latency issues. It has an ergonomic design with a removable mobile support post for tactical comfort & agility. With it, they can turn their iPhone into a console game device that they can play wherever, whenever.
It's compatible with thousands of games and services like Xbox Cloud Gaming, Stadia, PS Remote Play, Steam Link, Amazon Luna, and more. Everything they'll need is included, and it's simply plug in and play.
They can play online or offline and instantly share gameplay with the RiotPWR RP1950 Controller's dedicated share button, making their mobile gaming experience much closer to what they enjoy on their console gaming system at home.
The RiotPWR RP1950 Controller is compatible with any iPhone (iOS 7 or later) and case; with an included, replaceable cable, they'll even be future-proofed when Apple eventually changes its Lightning connection to USB-C.
No batteries or separate device are charging necessary, as the RiotPWR RP1950 Controller features pass-through charging that charges the controller as you play for gaming with a minimal power draw on their iPhone. Plus, it comes with an Audio DAC and headphone socket.
This slideshow requires JavaScript.
Students moving into their first apartment will appreciate being able to secure their front door from the inside while they're home with the $26.99 Master Lock 270D Folding Door Security Bar.
The 270D Folding Door Security Bar is engineered with high-strength steel, which can withstand immense pressure, making it nearly impossible for unwanted guests to force their way in. A padded foot on its bottom provides a sure grip on most floor surfaces while protecting the floor from damage.
The Master Lock 270D Folding Door Security Bar has a compact, quick-release design that unfolds and adjusts from 25.5″ to 43.5″  to fit most sliding and hinged doors, making it an easy way also to secure sliding balcony and patio doors.
Easily collapsed by the student when it's not needed, the Master Lock 270D offers unmatched protection, giving them the confidence to focus on their studies and sleep without any worries.
This slideshow requires JavaScript.
If your college kid still carries their ratty backpack from middle school, don't you think it's time for a serious upgrade?
Sure, there are plenty of backpacks available, but only the $199.99 HyperPack Pro comes with this many features built right in, and it will look just as at home on a college campus or in a professional setting.
The HyperPack Pro measures 19.1″ tall by 12.2″ wide by 5″ thick and weighs just under three pounds. Constructed with black 260a D Cordura with YKK AquaGuard zippers, its sleek exterior is abrasion & water-resistant; the backpack is durable and will keep their tech protected and dry.
You'd never know it by looking, but the HyperPack Pro has three main zippered sections. Each compartment has power cable pass-throughs, so they can use their portable battery pack and cables to charge their laptop, tablet, AirPods, or iPhone.
The rear compartment has a padded slot for up to a 16″ laptop with a separate slot in front for up to a 12.9″ tablet. There's also room in front of the laptop and tablet slots for a slim file or two.
The larger middle compartment has two zippered mesh pockets and a large slash pocket, so there's a place for all of their spare charging cables and any other loose items, with room to spare for extra layers or gym clothes.
The front compartment has another zippered mesh pocket and a large zippered RFID theft protective pocket to protect their wallet's credit cards or passport from ever being scanned while inside. An organizational panel with six slots can hold mobile phones, pens, and other slim items.
There is a hidden microfiber-lined sunglasses compartment on the top front of the HyperPack Pro, and built into the middle of the backpack's front pleat is a hidden quick access pocket with a built-in key clip on a nylon strap.
On the back are two padded shoulder straps with a removable chest belt. The back also has three layers of breathable foam for all-day carrying comfort; when they travel, they'll appreciate the built-in luggage pass-through and the hidden zippered pocket at the back's bottom.
On the left side is an open pocket with a zippered, expanding water bottle pocket underneath; on the right, there is a zippered pocket with yet another power passthrough slot. Sleek, lightly padded handles are at the top and both sides above the pockets.
As if that wasn't enough, the HyperPack Pro has an integrated location module and an easily replaced battery compatible with Apple's "Find My" app.
With it, they'll be able to easily locate their backpack and belongings by checking the Find My app's map or pinging their HyperPack through the app, so the module will emit a loud, 90db beeping sound, letting them know exactly where they left it.
The HyperPack Pro is built to last, and it has enough features to quickly become a favorite!
This slideshow requires JavaScript.
Games are a great way to break the ice with new friends, and that's exactly what will happen with the $29.99 'What Do You Meme?' card game.
With it, players will step up their meme game while having a blast with their friends during breaks, study sessions, or dorm hangouts. Playing 'What Do You Meme?' tests your creativity and sense of humor as players compete to create the funniest memes by pairing hilarious caption cards with popular meme photos.
Students will laugh out loud as they see the hilarious combinations unfold and discover who's the true meme master in the group.
Whether your friends are seasoned meme connoisseurs or newcomers to some of the more obscure photos in the meme world, 'What Do You Meme?' will provide a good time!
This slideshow requires JavaScript.
Perfect for students who enjoy the tactile feel of writing on their iPads, the $39.99 Adonit LOG is the first-ever stylus with a sustainability-sourced wooden casing for iPad users.
Hand crafted with FSC & PEFC-certified wood from sustainably managed forests, each Adonit LOG stylus casing features a one-of-a-kind grain pattern and texture with a smooth matte finish that resembles mixed distressed wood for environmentally conscious digital note takers.
Your student will appreciate the Adonit LOG's ultra-fine 1 mm (replaceable) tip and that the stylus has native palm rejection.
The Adonit LOG connects to their device simply by turning it on without the unnecessary hassle of Bluetooth, and it will provide up to 24 hours of continuous use with a full charge; they can get one hour of use from a four-minute quick charge, and it can be used while charging via USB-C during a writing session.
This slideshow requires JavaScript.
Whether heading to class, commuting to campus, or carrying valuables while studying abroad, the $23.98 Master Lock 5900D Portable Safe will offer convenient, on-the-go security for students of all ages.
The Master Lock 5900D Portable Safe is a lightweight yet secure solution that will give students the freedom of always knowing that their small valuables, such as cell phones, cash, credit cards, jewelry, and keys, are well protected everywhere they go.
The integrated cable can be wrapped around a fixed object so no one can walk off with the safe, and it doubles as a convenient carrying handle. It even has an earbud/charging cable access port, so they can listen to music or charge devices while the safe is closed tight.
This slideshow requires JavaScript.
As the school bells ring and the halls come alive with the buzz of students, make sure your favorite student is well-equipped to tackle the new academic year with style and sound with the $199.99 Victrola Music Edition 2 Tabletop Bluetooth Speaker — it offers the perfect blend of timeless elegance and modern technology to elevate your back-to-school experience.
Whether they're hitting the books in their dorm room, hosting a study group in the library, or even unwinding with friends after a long day of classes, the Victrola Music Edition 2 is the perfect companion for every moment.
This sleek and compact tabletop speaker will not only impress with its vintage-inspired design but also fill any space with crystal-clear, high-quality sound.
Thanks to its Bluetooth connection, this speaker effortlessly pairs with your smartphone, tablet, or laptop, allowing students to stream their favorite tunes wirelessly.
With up to 20 hours of battery life, there's no need for them to worry about running out of juice during their study sessions or impromptu dance parties. Since it is compact and lightweight, they can carry the Victrola Music Edition 2 wherever they go; they can move it from their room to the lounge or even take it outside for some fresh air while they study.
Don't be fooled by its size; the Victrola Music Edition 2 Tabletop Bluetooth Speaker delivers impressive, room-filling sound. Students will experience crisp highs, rich mids, and deep lows that will make their favorite tracks come alive.
Elevate your favorite student's back-to-school experience with the perfect harmony of vintage charm and modern technology. Let the music play, and the good times roll!
This slideshow requires JavaScript.
As the summer sun sets and the back-to-school season dawns upon us, it's time to gear up with confidence and style. Say goodbye to bad hair days and hello to fabulous locks with the $129.99 CoShare SuperFlow1 Hair Dryer, a cutting-edge hair dryer that will be an ultimate game-changer in students'  daily beauty routines.
The CoShare SuperFlow1 Hair Dryer is designed with students in mind, perfectly blending style and functionality. Its compact and lightweight design makes it a breeze to carry in your backpack or gym bag, ensuring you can always have flawless hair no matter where your busy school life takes you.
Featuring the latest SuperFlow technology, this hair dryer delivers an unrivaled airflow that dries your hair in record time. Say goodbye to long waiting periods, and hello to more precious minutes of sleep in the morning!
The CoShare SuperFlow1 dries hair faster and minimizes heat damage, keeping students' tresses healthy and vibrant throughout the school year.
We know how crucial it is for you to express your unique style while adhering to school dress codes. The CoShare SuperFlow1 Hair Dryer offers customizable settings, so you can effortlessly switch between different heat and speed options to achieve the desired look, whether sleek and sophisticated or bouncy and voluminous.
Besides its superb performance, the CoShare SuperFlow1 is also eco-friendly, boasting an energy-efficient design that reduces electricity consumption. So, you can be stylish while contributing to a greener planet – the perfect way to make a statement both in and out of the classroom!
This slideshow requires JavaScript.
The countdown to a new school year has begun, and while you might be sending your older children off to their new classrooms, if you have a younger child at home, the $34.99 Hatch Rest Go can help you create a peaceful environment so you can also have a moment of peace while they nap.
With the Hatch Rest Go, you can ensure your baby gets a sound sleep with 10 soothing sounds, including Ocean, Rain, Water, Wind, Dryer, Fan, Rock-a-bye, Heartbeat, and Hush.
Whether they prefer the gentle hum of a fan or the tranquil sounds of nature, Rest Go offers a variety of sound options to help them drift off to dreamland effortlessly.
Compact and lightweight, the Hatch Rest Go is the perfect companion for on-the-go families. Whether a run to the park, an afternoon at home,  or a weekend trip, you can simply pack it in your bag, and your youngest's sleep routine will remain undisturbed.
The Hatch Rest Go comes in five different soothing colors, so there is one that will appeal to every parent's aesthetic.
With the Hatch Rest Go, you can help your babies get their best sleep, so you have some free time when you can perhaps rest yourself!
This slideshow requires JavaScript.
If you're sending a student back to school with a Google Pixel, you've probably also outfitted them with a pair of earbuds like the Pixel Buds. A wireless charging station that can handle both simultaneously would be handy, but wireless charging still isn't nearly as fast as wired.
That's where the $56.99 Wasserstein 2-in-1 Charging Station for Google Pixel and Pixel Buds comes in.
The Wasserstein 2-in-1 Charging Station has a weighted base that won't topple over, and its hard-wired design means you don't have to sacrifice one of your charging cables, high-powered charging ports, or a higher-wattage charging block to power it.
A tilting USB-C charging plug is on the front, and a USB-C charging is positioned behind the phone's stand. So that it will work with any case their Pixel might be in, there is a wheel directly behind the stand that will raise and lower the front USB-C plug.
That the Wasserstein 2-in-1 Charging Station can also charge their Pixel buds simultaneously makes it a handy way to ensure that both are always powered.
The stand also works well with any other USB-C powered phone or tablet, and if you have other earbuds that use USB-C charging, they'll work fine, too.
Thanks to being an official "Made for Google" product, the Wasserstein 2-in-1 Charging Station is fully compatible with any Google Pixel phone and Pixel Buds, and it will deliver up to 15W charge to the phone and 4.5W to the earbuds.
The Wasserstein 2-in-1 Charging Station for Google Pixel and Pixel Buds on your favorite student's bedside table or desk is a great way to ensure their phone is always powered and ready to go.
This slideshow requires JavaScript.
Trivia games are fun, but even more fun is a game that helps you learn random facts about other players, which can be helpful for breaking the ice with new college friends as you're getting to know each other better. That's where the $24.95 Pando Trivia Game comes in.
While it is a trivia game, you and the other players won't need to be trivia buffs to enjoy playing because Pando is about guessing or learning the most trivial and random facts about each other.
Pando is for 4 to 12 players aged 14 and up; the game is played in rounds, where Guessers try to answer questions about Readers to earn points.
The Reader has to read questions about themselves and reveal the truth after the answers are guessed. The reader continues their turn until a guesser correctly answers three questions in a row.
The Guesser earns a point by correctly answering three questions in a row about the reader. The guesser continues their turn until they miss a question, and the first player to reach 5 points wins.
It takes about 30 minutes to play, although you play to a different number of points to extend or shorten the game. This is a great way to get to know your suitemates and anyone else who might like to join in.
This slideshow requires JavaScript.
With back-to-school essentials at the top of everyone's mind, TCL has plenty of must-have gear to make heading back to school a breeze; they are offering a limited-time special for back to school, now through September 10th.
Normally $149.99, the TCL 40 XL Smartphone is now just $105. Designed to be a workhorse phone that won't break the bank, the TCL 40 XL is perfect for the on-the-go student.
You can get the $199.99 TCL TAB 10S Tablet for just $140; it's perfect for kids of all ages that need an economical and reliable tablet for school.
Other TCL mobile products are also available for 30% off, including the 30 5G, 30 Z, 20 Pro 5G, 20 SE, 20 S, Tab 8 Wi-Fi, and TAB Max.
If you're shopping for a new smart TV for a college student's dorm room, look no further than the reliable and affordable TCL S4 Smart TV. A 43″ TCL S4 Smart TV is just $279.99, and it's available as Roku TV or Google TV at most nationwide retailers.
And finally, if you are looking for an ideal smart TV or PC monitor that won't break the bank, you should check out the TCL S3 Smart TV. A 32″ TCL S3 Smart TV is just $199.99, and it's also available as Roku TV or Google TV from most nationwide retailers.
This slideshow requires JavaScript.
If back to school means early-morning school drop-offs and late-afternoon activities pick-up and plenty of time spent in the car, you're probably very familiar with having to duck your head and flip your car visor to the side and back as you try to avoid the sun's glare.
The $69.95 ADDVISOR can bring an end to that unsafe routine while you're driving.
Paired with your car's existing sun visor, ADDVISOR is similar to the independent visor options offered by top luxury brands like Mercedes, Porsche, Range Rover and Audi; now you can have those same extended features in your vehicle, too.
ADDVISOR mounts to the top of your windshield with 3M adhesive strips that will stay attached in all temperatures and can be removed without a trace. When it's not needed, ADDVISOR folds up over your existing visor, and it won't get in the way of other main visor-mounted accessories like garage door openers.
When needed, you simply flip the ADDVISOR down so it can block glare through the windshield, there are two parts to this folding sun blocker; the first is an ivory colored solid visor, and the extendable visor is polarized and tinted, offering enhanced UVA & UVB protection without sunglasses.
When you're using the ADDVISOR, your car's built-in sun visor can move freely to the side window, offering you maximum protection and visibility. This seems like a great way to upgrade your driving experience, doesn't it?
This slideshow requires JavaScript.
Whether your student is running to the cafeteria for a quick bite, hanging out on the quad, or just wandering the halls of their dorm, having comfortable footwear you can slip on in seconds is a terrific convenience.
The $49.95 BIRKENSTOCK Men's Arizona Essentials EVA Sandals are a modern update to the classic Birk that started it all. It has the classic two-strap design and the anatomically shaped BIRKENSTOCK footbed that made the brand famous.
Unlike the classic, however, these are made from ultra-lightweight and highly flexible EVA. That means that, besides offering the comfort and shock absorption Birkenstocks are known for, they are also waterproof.
They'll provide exceptional comfort on campus and, doing spring break, are ideal for a trip to the beach.
The two straps on each sandal has an individually adjustable pin buckle for comfort and a secure fit. Add the fact that they are waterproof, washable, and ultra-lightweight, and you have the perfect sandal for the campus, vacation, or just about anything else.
Best of all, they are just $49.95 at Bob's Stores. And if your student isn't into Birkenstocks, never fear — Bob's Stores offers a huge range of styles from various companies.
This slideshow requires JavaScript.
A comfortable daypack is a must on campus, and the $65 OSPREY Daylite Pack is ideal for days when there is too much to carry in a small sling but not enough to justify using a last 20-30L backpack.
This 13L pack is lightweight, durable, and surprisingly comfortable. It offers "just enough" organization to keep things organized without becoming overly complicated. Perfect for everyday errands, a quick hike, or heading out of town, we think it is also a great option for campus.
Environmentally-conscious students will appreciate that the pack is constructed with recycled polyester and PFC-free DWR. Another great feature is the ability to attach it to several Osprey travel and backpacking bags during longer trips. That flexibility makes it a pack that can be used in multiple situations and won't quickly be outgrown.
Key features include a large panel-loading main compartment, a multifunctional interior sleeve for hydration reservoir, 13" laptop or tablet, dual-side compression straps, dual water bottle side mesh pockets, a front pocket with organization and key clip, and a grab handle doubles as a luggage pass-thru.
The pack offers 13L of storage yet weighs just over a pound, which is great when you're late for class and must sprint across campus.
At just $65, the OSPREY Daylite Pack ticks all the boxes for the perfect campus pack, but if your student is in the market for something else, never fear; EMS offers plenty of other backpacks in various sizes, colors, and designs from top companies.
This slideshow requires JavaScript.
School's around the corner and the the kids are headed back out into the world. What will you do with all this new peace and quiet? Fire up a video game of course!
The $129.99 PowerA MOGA XP-Ultra Controller may just be what a gaming parent needs to recharge themselves after a busy summer of activities.
The 4-in-1 Modular Design controller works either through wired connection or via Bluetooth, and is the first officially licensed wireless controller for the Xbox Series X/S on the market.
With it, you can play wirelessly on Xbox, Windows 10/11, Android Mobile, and compatible smart TVs. The MOGA XP-Ultra Controller has mappable advanced gaming buttons, dual analog sticks, dual rumble motors and impulse triggers, and a high-capacity 2000mAh rechargeable battery.
The detachable full-sized grip and mobile gaming clip, are a nice touch because it gives you the choice of four configurations for gaming at home or on the go.
It's even backed with a two-year limited warranty, so you know it's going to last!
•••••
And now it's time for our 2023 Back to School Gift Guide Giveaway!
Up for grabs, we have three items, one of which will each go three lucky winners.
This slideshow requires JavaScript.
First up, our top winner will receive the sleek 13″ Lenovo ThinkPad Z13 Gen 1 in bronze with a lovely black recycled PET vegan leather cover. It's powered by the AMD Ryzen 7 Pro 6850U with Radeon Graphics 2.70 GHz. It comes with Windows 11 Pro and has 16 GB RAM and 512GB of storage; it is valued at $2831.00.
The second winner will receive a Lenovo Tab P11 2nd Gen in storm gray. It has an 11.5″ display and runs Android 12 with 4GB RAM and 128GB of storage. This prize includes the keyboard pack and Precision Pen 2; it is valued at $295.99.
The third winner will receive a Lenovo Tab M9 in storm gray. It has a 9″ display and runs Android 12 with 3GB RAM and 32GB of storage, and it is valued at $99.99.
Good luck!
a Rafflecopter giveaway

Sweepstakes Official Rules:
• No purchase or payment of any kind is necessary to enter or win.
• The prizes have been provided to us by Lenovo.
• The value of the Lenovo Lenovo ThinkPad Z13 Gen 1 is $2831.00.
• The value of the Lenovo Tab P11 2nd Gen is $295.99.
• The value of the Lenovo Tab M9 is $99.99.
• Our sweepstakes is only open to anyone in the United States who is age 18 and up.
• Our sweepstakes is open only to people with a continental USA mailing address; if your address shows as out of the country, we will pick a new winner.
• We will award one prize to each of the three winners; the winners will be chosen randomly through Rafflecopter.
• Odds of winning depend on the number of eligible entries received during the sweepstakes entry period.
• Our sweepstakes will run from 12:01 am CT on July 31st to Midnight on August 21st, 2023.
• Generally, winners will receive an email from judie at geardiary dot com a day or two after the sweepstakes ends. Please be sure that you have that email address whitelisted in your email settings.
• If you are chosen as the winner, you will have two weeks to respond to the winning announcement email. If you do not respond, on the 15th day, we will pick a new winner. It is not our responsibility to notify you more than once that your entry has been chosen, so be sure to check your spam folder routinely after the sweepstakes has closed.
• All sweepstakes winners will be posted on Gear Diary in the Rafflecopter box where entries were accepted. We will leave this list in place for three months after the sweepstakes has closed.
• Each sweepstakes winner is responsible for all federal, state, local sales taxes, and income taxes related to their particular prize. Any other incidental expenses on the prize not specified herein are the sole responsibility of the winner.
• By entering this sweepstakes on Gear Diary, you agree to receive exclusive offers from Gear Diary. You can unsubscribe at any time.
• We retain the right to revoke prizes for sweepstakes winners whose profiles appear to use multiple usernames, email addresses, or other potentially fraudulent credentials.
• By participating in this sweepstakes, you (i) agree to be bound by these Official Rules, including all eligibility requirements, and (ii) agree to be bound by the decisions of Gear Diary, LLC., which are final and binding in all matters relating to the sweepstakes. Failure to comply with these Official Rules may result in disqualification from the sweepstakes.